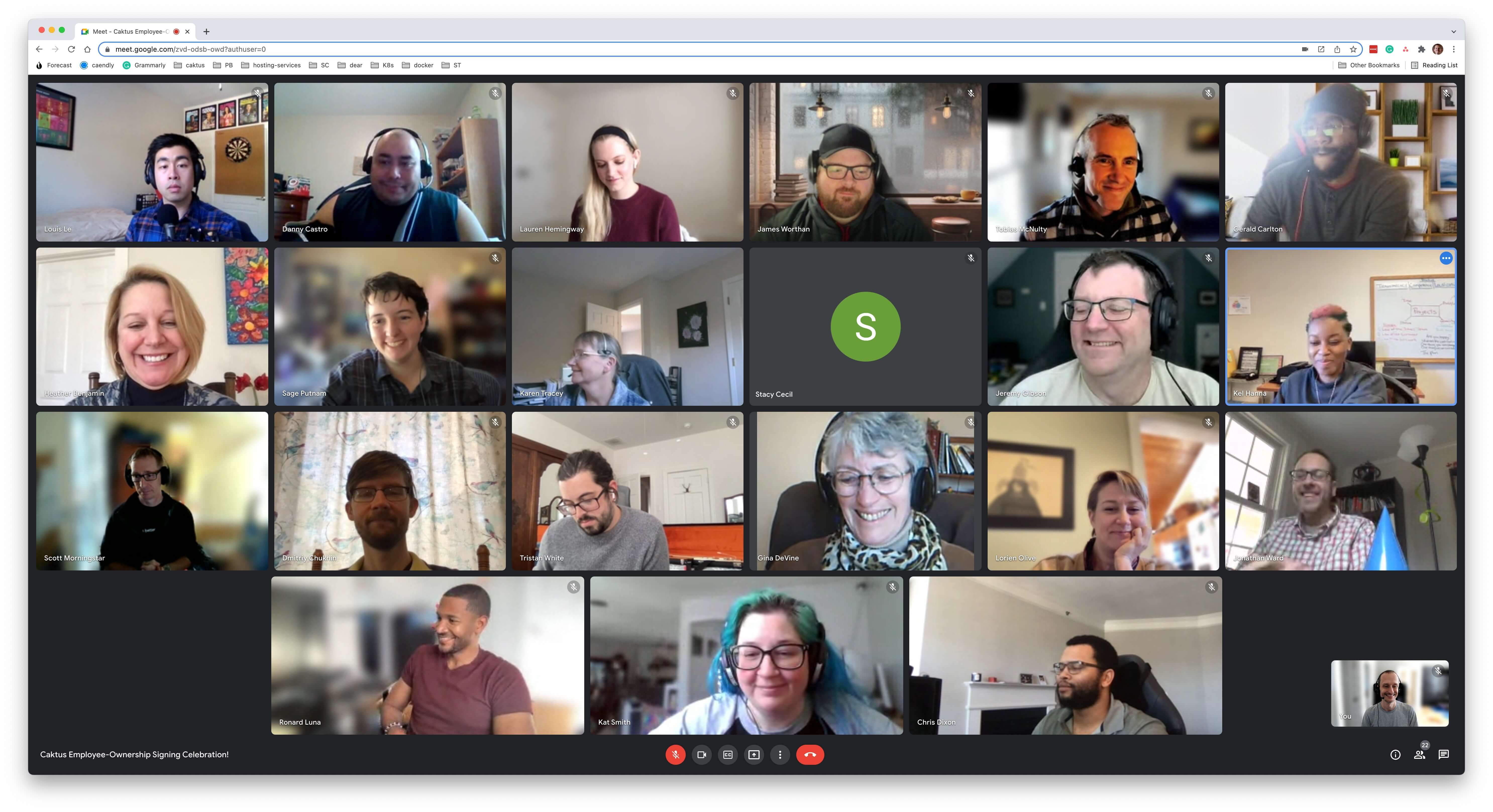 Nearly every week, I receive an email or two from a third party expressing interest in buying Caktus. As a matter of habit, I don't open them, let alone respond. Most are scattershot, venture capital firms looking for Software-as-a-Service companies (which Caktus is not). But when an employee approached me in 2018 expressing an interest in making Caktus employee-owned, I listened.
Since 2018, we've been working to identify what employee ownership might look like at Caktus. The employee who originally brought up the idea has since moved on, but the idea took hold. We formed an eight member steering committee made up of interested (and skeptical) people from a cross section of the wider team. The steering committee was charged with crafting a proposal to present to the entire company. The effort also involved the assistance of an outside non-profit organization that assists with employee ownership transitions, as well as our existing legal and accounting advisors.
In the summer of 2020, the steering committee presented the proposal to the rest of the company, and determined that we had the buy-in necessary to move forward. Since that time, we've been working with our advisors to finalize the legal and accounting aspects of the transition.
I could not be more pleased to announce that, as of January 1, 2022, the first big step in this transition is complete, and we officially welcome 15 new employee-owners (some of whom have chosen to remain anonymous):
These 15 individuals make up 65% of staff members eligible to buy in as of January 1st, and we hope to welcome new members in the future. Including Colin and me, this means 74% of eligible employees are owners of the company as of January 1st. (We're still working to get bios for a few new team members up on the site, and I'll update this post as soon as we do.)
Collectively, our new employee ownership body controls 49% of the interest in the company. As a practical matter, we could not become 100% employee owned at this time -- for instance, it would require refinancing the mortgage on our beautiful downtown Durham HQ -- but we will be working towards that in the future. Caktus is also now governed by an official board of directors, recognized in our operating agreement, that includes Colin and me, as well as three elected employee-owner representatives.
Today's announcement is a major accomplishment that both helps differentiate us in the marketplace and demonstrates the commitment and ownership our team feels over their work. Caktus was created as a result of the joy its cofounders discovered in teaming up together on a project, and we carry that spirit forward today in all of our work on client and internal projects alike.
Please join me in congratulating our team on this big step, and in wishing us the best as we push forward in this journey together.
About Caktus
Caktus is a team of Django, Python, and React experts headquartered in the heart of downtown Durham, North Carolina. For more information on what we do, please review our services or contact us to learn more. Interested in joining our team? We're also hiring!