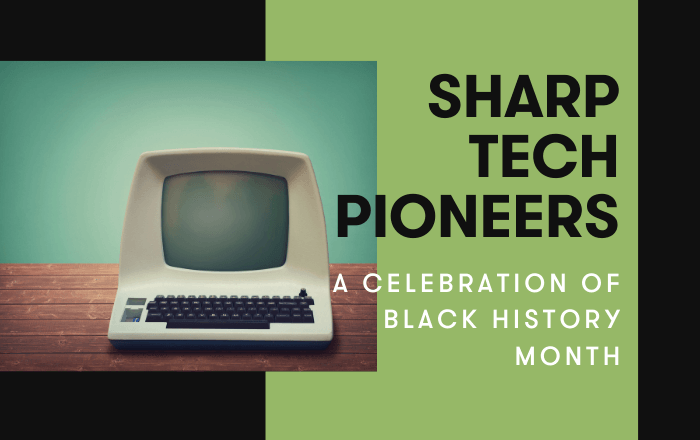 Have you heard of Jerry Lawson or Kimberly Bryant? No? You're not the only one … I hadn't either, until earlier this month. Both of them are trailblazers in the tech industry, who we're recognizing as part of our celebration of Black History Month.
This month, our internal team of social media ambassadors (Chris, Jeremy, Kat, and Matti) specifically chose to highlight lesser-known African Americans who made an impact in the tech industry. We chose four pioneers to highlight — one for each week of the month, including two men and two women:
Jerry Lawson
Kimberly Bryant
Frederick McKinley Jones
Erica Baker
We created a video series, Sharp Tech Pioneers, which we released weekly on our social media and new YouTube channel. You can also see our videos below.
Learn why Jerry Lawson is known as the Father of Modern Gaming and how vaccine distribution is impacted by the inventions of Frederick McKinley Jones. Learn about the efforts of Kimberly Bryant and Erica Baker to promote diversity and inclusion, including inspiring young girls of color to learn how to code.
Our hope is that these videos raise awareness of the contributions of African Americans to the tech industry, which have often gone overlooked throughout our history. It's time, no, it's really past time, to shine a light on their contributions and give them the recognition that they deserve. If you're inspired by the tech pioneers who we chose to highlight, then please share their stories. We also know there are many, many more unsung innovators and it was truly difficult to choose only four. So, we already have plans to highlight more in the future!
I'm proud to say that Caktus has always valued and been a proponent of diversity and inclusivity. And we want to see more of it! We're putting our money where our mouth is, with plans to support more groups like Black Girls Code, which focuses on teaching young girls of color to code, and is founded by the aforementioned Kimberly Bryant.
Black, Indigenous, and People of Color have contributed greatly to all aspects of our collective history, including technology, as we've already highlighted. My colleague Kel Hanna also wrote about musical accomplishments of Black artists, and provides suggestions to add to your playlist.