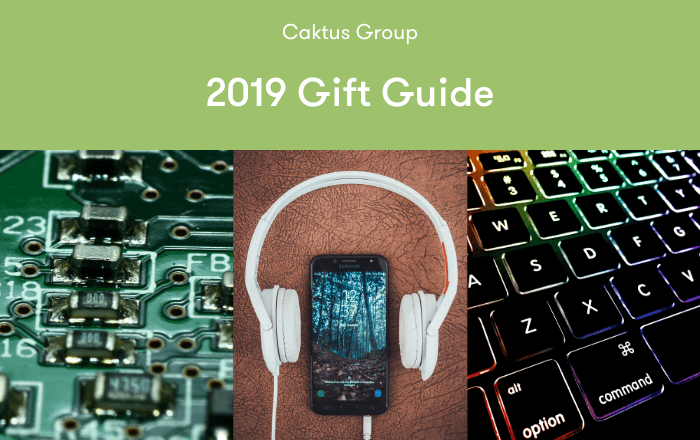 'Tis the season for giving, but it can be difficult to find the perfect gift for the special techie in your life. Whether you're looking for something fun and quirky or something more challenging, here are 20 unique gift ideas from our technical team:
For Pi(e) Lovers
Raspberry Pi 4 Complete Starter Kit
This 4GB kit is exclusive to CanaKit and includes everything you need to get started with a Raspberry Pi mini computer. While it's aimed at young minds, this is a great gift for anyone who's interested in coding and learning programming skills with an affordable, portable tool.
Raspberry Pi 1 Model B+
The Model B+ is the final revision of the original Raspberry Pi. It replaced the Model B, and has several upgrades including more USB ports and better audio. This inexpensive mini computer is ideal for DIY projects.
HiFiBerry Amp+
This power amplifier mounts onto the Raspberry Pi to create a stereo audio system. Our CEO Tobias McNulty would love one of these to stream music to an old pair of speakers. It can also be used as a building block for multi-room audio installations.
BrickPi3 Base Kit
The BrickPi3 by Dexter Industries makes the sky the limit with LEGO MINDSTORMS (a LEGO platform for creating programmable robots). You can connect LEGO sensors and motors to the Raspberry Pi to build your own robot.
For Greater Peace of Mind
A Year of Backblaze Cloud Backup
Backblaze offers unlimited backups for a set price. According to our Technology Support Specialist Scott Morningstar, Backblaze found an innovative way to use consumer hard drives in their data centers that keeps costs down. They also report drive statistics and failure rates every quarter. No backup is perfect, but Backblaze comes close. Scott's family uses it, making his family tech support during the holidays much easier. Backblaze provides unlimited cloud storage and runs on Windows and MacOS. You can purchase a year of unlimited Backblaze backups as a gift.
Ultrastar 12 TB Hard Drive
These mighty hard drives are built for maximum storage. They're designed to handle workloads up to 550TB per year. It also has a high reliability rating and is not a power hog.
For Tuning In & Rocking Out
Bose QuietComfort 35 Wireless Headphones II
These wireless, noise cancelling headphones are ideal for air travel or drowning out the background noise while your work. Google Assistant and Amazon Alexa are also built in to provide hands-free access to millions of songs, playlists, and more. They're also enabled with Bose AR, a first-of-its-kind audio augmented reality platform. Our COO Nicole Foster would especially love a pair in rose gold (nice choice!).
Bluetooth Beanie
There are lots of these on the market — here are the top ones, according to BestReviews, which lists pros and cons of each. Our CBDO Ian Huckabee says he'd love to have one of these to keep warm and listen to his favorite music or podcasts while walking his dog.
Korg Volca Keys or Sample
Full-size synthesizers are a bewitching array of knobs, buttons, and patch cords. Korg's Volca line is meant for those who are interested in figuring out how they work with minimal cost — sort of a ukulele equivalent for the Kraftwerk crowd. Volca Keys is an analog synthesizer, and the Volca Sample is a sample-based drum machine. Both have built-in sequencers and plenty of knobs and options to fiddle with and bend their sound, which is most of the appeal, says our Lead Project Manager Eliza Hubbard.
For the Homebody
Sous Vide with WiFi
This is perfect for the hardworking techie who wants a home cooked meal when they get home. Sous vide is a cooking method in which food is placed in a plastic pouch or a glass jar and cooked in a water bath with an instrument that precisely controls the temperature. Our QA Analyst Kat Smith swears by the Anova brand sous vide that connects to wifi, so she can control and monitor the cooking temperature remotely. Kat says, "If you're a snob about the temperature of your steak this is the perfect gift, and you can cook safely while you're not at home."
Wyze Cam V2
This very affordable and sleek little smart home camera doesn't skimp on quality. It's equipped with 1080p HD video, night vision, and 2-way audio. You can connect it to a live stream app and enable the push notifications to alert you of motion or sound. It also works with Alexa and Google Assistant, and features continuous recording with local or cloud storage.
Casper Glow Light
The Glow Light is a portable warm, soft light that helps you to wind down for bed. You can set to gradually dim to help you fall asleep and then gradually turn on in the morning to help you wake up more naturally. It works with the Glow app so you can customize your bedtime and morning routines.
Secretlab OMEGA Chair
This customizable award-winning chair provides maximum comfort and support. Developer Christopher Dixon says this "dream chair" would be a great addition to anyone's gaming or office space. If you need a nap from gaming or working, it also includes a full-length backrest that reclines almost fully.
For Staying in Touch
Latest Apple iPhone
The iPhone 11, 11 Pro, and 11 Pro Max are the latest and greatest smartphones by Apple. See how they compare to each other. Members of our team (including myself) said they're specifically interested in one of these models because of their storage capacity, battery life, and advanced camera.
Solar Phone Charger
Solar technology has improved dramatically over the last few years, and the new models of solar phone chargers can pack a surprising amount of power. They're small enough to take camping or to a football game, and are beneficial at home during a power outage or severe weather event. Our Account Executive Tim Scales suggests the the Venture 30 Power Bank + Nomad 7 Plus Solar Kit.
mAP lite
This very small, wireless access point packs a big punch for its size. It's ideal for traveling because it can be used to extend your hotel internet to all your devices. It can also serve as a client device to improve your laptop signal range, or as a simple configuration tool for your servers, if there is no ethernet on your mobile device.
For the One Who Has Everything
Drop CTRL Mechanical Keyboard
This mechanical keyboard has a solid aluminum frame and is programmable using QMK software. It includes hot-swap switch sockets, which allows you to change switches without soldering. It's outfitted with the fastest available connections. The RGB backlighting and underlighting is customizable.
1083 Heat Touch Hellfire Gloves
These Hellfires are the only gloves that our CBDO Ian Huckabee says would be more amazing than the "best gloves he ever owned," which he had to toss out last winter. These high-tech, powered gloves can provide more than 12 hours of heat and are ideal for snowboarding, skiing, or other outdoor winter sports (dog sledding, anyone?).
mBot Robot Kit
This educational robot kit from Makeblock is great for little and big kids alike! Build your own robot from scratch and learn about a variety of robotic machinery and electronic parts, as well as the fundamentals of block-based programming.
X3 Hurricane
The X3 Hurricane is a variable speed, canless air system for cleaning computers, server rooms, camera lenses, and even circuit boards. It's a powerful but quiet cleaner. One unit is equal to over 5,000 cans of a traditional duster.
The items on this list are independently suggested by Caktus Group team members, and are not sponsored or endorsed. Caktus Group does not have any affiliation with these items and will not receive any commission from the sale of these items.