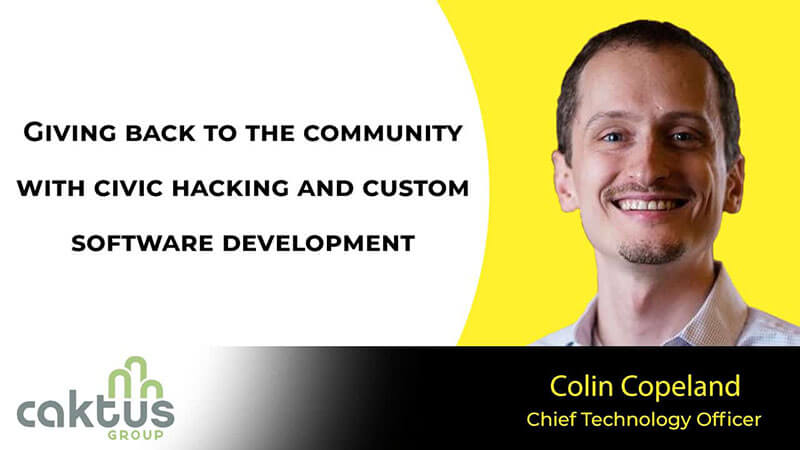 In the July 16 episode of Modern CTO, Colin Copeland, Caktus Co-Founder and Chief Technical Officer goes one-on-one with podcast host Joel Beasley. They discuss the:
Caktus philosophy of giving back to the community with civic hacking and custom development for social good
Power of building the right team for the job
Keeping work interesting with new challenges
Leadership and Technology
Colin began programming when he was in high school. During the podcast, he talks about entering the development world with a friend he met online, which helped to spark his initial interest. His passion for programming evolved when he met Tobias McNulty in college. Their common background and interests led to the creation of Caktus Group in 2007, with Tobias as CEO.
As CTO, Colin helps ensure that Caktus remains at the forefront of the open-source community. A proponent of automated testing and continuous integration, Colin is always researching best practices and creating efficiencies to improve deployment processes and provide outstanding support for Caktus clients.
In 2016, Colin was invited to the White House Police Data Initiative to share his ideas on how to ensure law enforcement transparency and accountability. Colin is also a recipient of the Triangle Business Journal's 2015 40 Under 40 Leadership Award. The award recognizes individuals for their remarkable contributions to their organizations and to the community.
Software Development for Social Good
During the podcast, Colin highlights some of the complex applications Caktus has completed that initiate social change. For example, the world's first SMS voter registration app for Libya. As a result of that project, Libya became the first country where citizens can register to vote via SMS text messaging.
Colin also talks about what motivates him in a project that he started as a volunteer through Code For Durham, a civic hacking brigade, which he helped to found. The project culminated in the creation of a website called Open Data Policing NC, the first of its kind, which recently relaunched as NC CopWatch. It draws on public records to publish up-to-date stop, search, and use-of-force data — broken down by race and ethnicity.
Strategic Growth
Colin also tells the story of getting started in the industry and wearing many hats in the early days. Today, the keys to Caktus' success lies in not only finding sharp talent but the power of building the right team. He talks about growth and hiring the first Caktus developers and the evolution of his position into being able to keep work interesting with new challenges. By the way, Caktus is always looking for talented web developers and is hiring now.
The Roots of Success
Colin discusses how Caktus' philosophy enables a successful client experience and positive time to cost outcome for all parties involved.
Caktus looks at the word "partnership" differently than most development companies. Rather than simply focusing on building strong external connections, we actively look for ways to break down internal silos. As a result, Caktus offers a more cohesive experience to our clients as we deliver applications that take into account the expertise and expectations of all stakeholders involved.
As a full-service shop, Caktus commits to maintaining each project with managed hosting and ongoing Django upgrades. Past and current clients include Mozilla, UChicago, PBS, Discovery Communications and others in media, education, finance, health research, and social good.
Tune In to Learn More
To hear the entire discussion, listen to the full episode of the ModernCTO podcast featuring Colin: