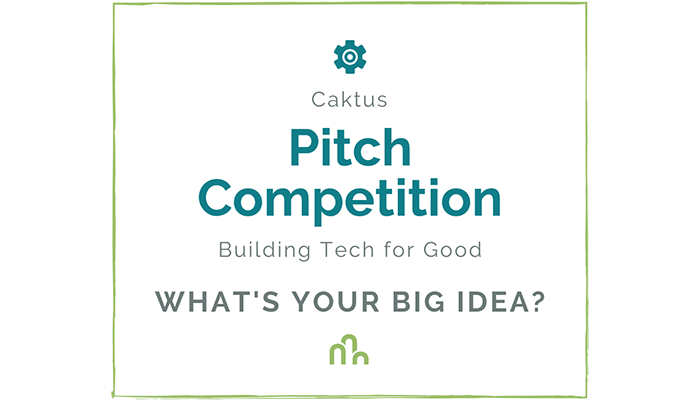 We recently hosted the first Caktus Pitch Competition: Building Tech for Good, which aimed to draw out innovative ideas and help make them a reality. While any web development ideas were welcome, preference was given to projects serving the public good.
The competition was open to Caktus employees, family, and friends. Seven competitors pitched their big ideas on Thursday, March 5, vying for a chance to win up to 300 project hours from Caktus including development, quality assurance, and project management time.
The winner of the inaugural Caktus Pitch Competition is a project to expand and extend the DEAR Petition Generator, as presented by Colin Copeland, our CTO & Co-founder. The DEAR Petition Generator is an open-source tool that automates and expedites the criminal record expungement process. The generator is already in use and is the result of a partnership between Code for Durham (of which Colin is a member), the Durham Expunction & Restoration Program also known as DEAR Durham and Legal Aid of Durham. With various improvements, the DEAR Petition Generator has the potential to help thousands of Durham residents and expand to other North Carolina counties.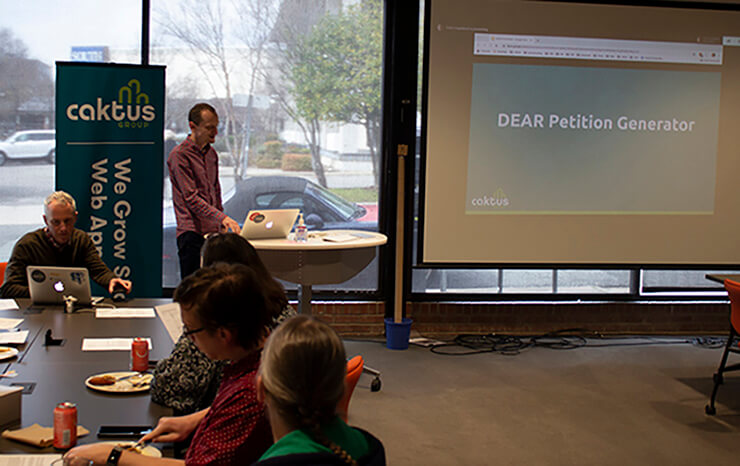 This project is near and dear to Colin's heart because he believes in the mission of DEAR Durham, which provides free legal services to residents who cannot afford attorneys to expunge charges and convictions from their criminal records. A criminal record makes it very difficult to find work and even housing. As their website says, they believe in second chances.
The next steps with the project include coordinating with project stakeholders, creating a backlog for the project, and scheduling the work time. Stay tuned for follow-up blog posts about the winning project and the impact it will have on the community.
A Compelling, Friendly Competition
For the competition, participants had no more than 5 minutes to present and the pitches included:
"I'm incredibly impressed with all of the pitches," said Caktus CEO and Co-founder Tobias McNulty. "I wish we had the budget to support all of these proposals."
The audience voted for their favorite pitches, and the three semi-finalists were Colin Copeland, Karen Tracey, and Erin Mullaney. Colin's project was the highest-ranked during the initial vote. Then, the final selection committee of judges, including Cakti Eliza Hubbard, Scott Morningstar, Michele Hilmey, Michael Ashton and Jeremy Gibson determined the winner.
The idea for the Caktus Pitch Competition was inspired by a program at SmartLogic, a company that Tobias became familiar with while living in Baltimore. SmartLogic's SmartVentures program provides selected companies with $400K of product development and mentorship to help them take their product to scale.
Every idea presented at the Caktus Pitch Competition was compelling, and Tobias hopes it will become an annual event that will expand over the years.
"The diversity and variety of the pitches really struck me," said Tobias. "All the projects are feasible and would be beneficial to the users and wider community. I'm proud of all the pitches and congratulate everyone who participated — thanks for making this inaugural event a success!"