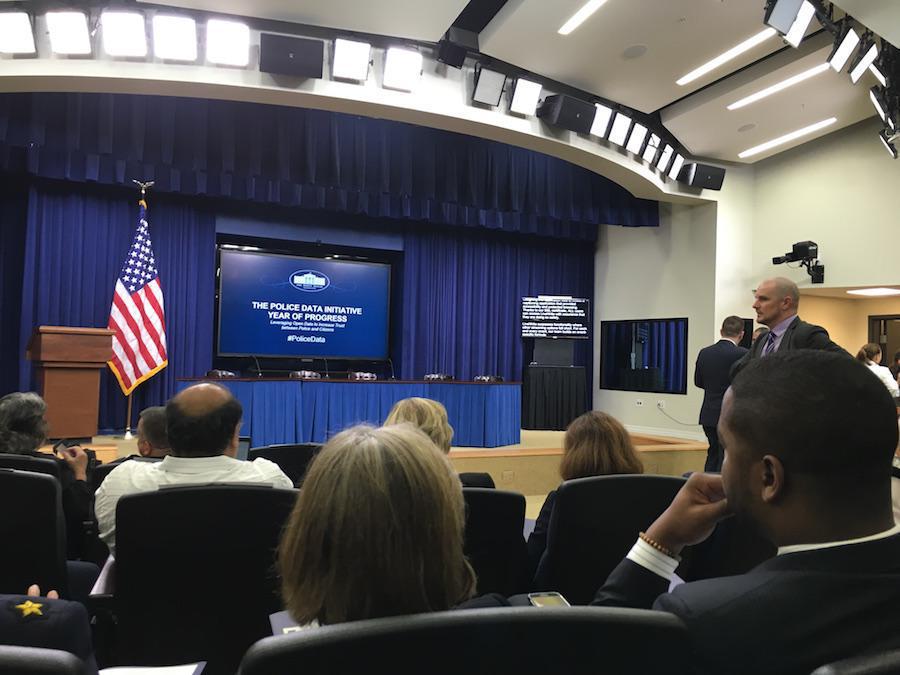 We at Caktus were incredibly proud when the White House Police Data Initiative invited CTO Colin Copeland to celebrate their first year accomplishments. While at the White House, Colin also joined private breakout sessions to share ideas with law enforcement officials, city staff, and other civic technologists from across the country. Colin is the co-founder of Code for Durham and served as lead developer for OpenDataPolicingNC.com. OpenDataPolicingNC.com, a site built for the Southern Coalition for Social Justice, displays North Carolina police stop data.
When he returned, we couldn't wait to learn more about his perspective on the talks given (video available) and the breakout discussions held. Here's a condensed version of our conversation with him.
Can you tell us what the White House Police Data Initiative is?
It's an effort by the Obama administration to use open data and partner with technologists to strengthen the relationship with citizens and police. The goal is to increase transparency and, as a result, build trust and accountability. It has grown a lot—53 law enforcement agencies. It's an incredible initiative.
What was it like to be at the White House Police Data Initiative celebration?
It was super exciting to be at the White House and to see demonstrations of what has been accomplished. Fifty-three new law enforcement agencies had signed on to the initiative with close to 100 datasets. I felt lucky to be part of it since what we do with OpenDataPolicingNC.com is such a small piece of the whole effort.
Seeing other initiatives and what other police departments are doing was invigorating. It really made me feel motivated to keep doing what we've been doing, especially after seeing other Code for America projects. I also liked being able to hear the perspectives of people from vastly different backgrounds, whether it was someone in the police department or the city. The event was about learning from people all over the country.
Can you describe a couple perspectives you found interesting?
Ron Davis [Director of the federal Office of Community Oriented Policing Services] had a perspective grounded in making sure all police officers, from the rank and file to leadership, understood why open data benefits them. It's an important aspect. If they don't see the benefit and buy-in, it's much harder to advocate for open data.
Also Chief Brown [Dallas] emphasized that releasing data led to community trust. The value you get out of that outweighs any internal pressure not to do it. He was straightforward about how doable it is to release data, how good it was for Dallas, and encouraged other police departments to do the same.
What do you think is the greatest challenge to open data policing efforts for interested agencies?
Knowing what to share is a hurdle for most new agencies. There was some discussion of building a guide or toolkit to share ways to implement this in your city. Small police agencies do not want to reinvent the wheel, so they need easier onboarding. We need to make it easier for everyone to get involved.
What was something new you learned about open data policing?
I learned a lot. It was a lot of interesting, new perspectives, innovative partnerships. But there was one aspect: there's not a lot of data standards for how police track and report various metrics, including use-of-force. So you can't compare one jurisdiction to another always. It can look bad for one department versus another because you used a different set of criteria. There needs to be greater standards in order to better share information.
What's next for you with open data policing?
There's going to be an expansion of OpenDataPolicingNC.com and that's through Code for Durham. We're going to be using geolocational data provided by Fayetteville and Police Chief Harold Medlock. He asked us to map the data to see what it highlights. We hope other agencies can use it, too, once the Fayetteville one is online. It's an exciting project and we're honored Chief Medlock asked us to help out.