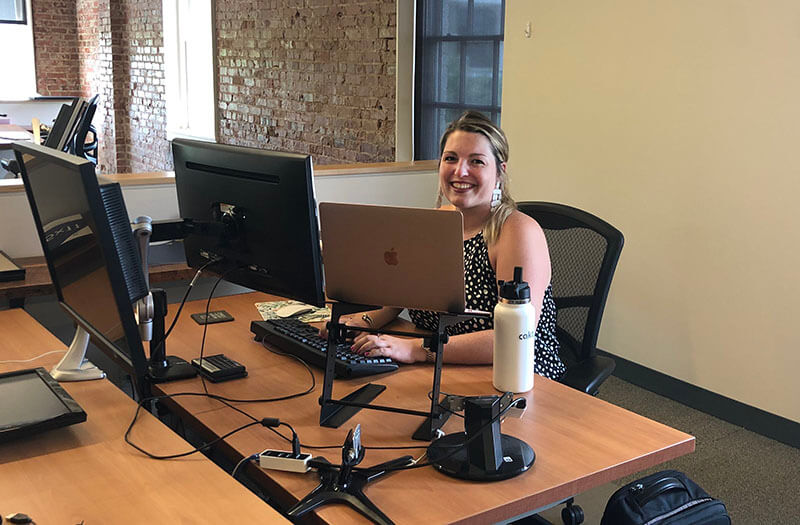 This is a blog post about where I come from and where I'm headed as a team member at Caktus Group. I'll only be on my soapbox for a few paragraphs, pinky promise.
The NC Research Triangle Park area was the perfect place to set my sights on when I was in search of an entry-level position in technology sales upon graduating from North Carolina State University in 2017. I desperately searched for reputable organizations that didn't require past experience beyond the bartending and waitressing I'd done since freshman year of college. With no luck and feeling discouraged, I accepted a restaurant management position that paused my sales career pursuit. A bit of time went by, but I was still keeping my eyes peeled for a role in tech sales. Cue 2020 and the COVID-19 pandemic, and I was walking on eggshells hoping the restaurant I worked at wouldn't close down and leave me jobless. So I was thrilled when I got a call from my recruiter who said that she might have the perfect opportunity for me.
The opportunity was exactly what I was looking for: an entry-level position geared towards technology, with room for growth, at a reputable organization in the Triangle. Once I accepted the offer in July 2020, I started learning the ins and outs of the organization. After that, I knew I had hit the jackpot. I swear I am not being coerced into publishing this praise when I say that becoming a Business Development Representative (BDR) at Caktus Group changed my life for the better. The BDR position is a quintessential first "big kid" job: I was in charge of making outbound calls and emails in pursuit of setting introductory meetings with the Caktus sales team. It's a challenging and highly rewarding gig that gives you the opportunity to learn a ton of the basics.
Coming from absolutely no background in technology, I became a sponge. Beyond learning the essentials of sales, I had to figure out what the heck I was selling. With everyone working remotely, this came with an extra hint of difficulty. I asked some of my new colleagues to meet with me virtually so I could learn more about their roles and expertise. I also Slack messaged the developers, including our CTO and CEO, with elementary questions. Everyone was accessible and willing to answer all my questions, which was invaluable. I also watched hours of "Application Development for Dummies"-esque videos on YouTube. I made flashcards outlining our capabilities and what those capabilities actually meant (what is this "scaling" you speak of!?).
Throughout the first few months, I consistently had conversations with the Sales Director who gave me the encouragement to keep learning. I spoke daily with the development team who gave me overviews of past projects, clarified terminology, or more specifically, provided a crash course on Kubernetes (shoutout to Jeremy Gibson!). Our Chief of Staff often reached out to me for "pulse checks" to see how I was doing. I felt truly supported by everyone at the organization.
The constant support I felt from the team was especially helpful during a time where working from home was a completely different experience than what I was accustomed to in the restaurant world. A stark transition like this one requires guidance, and guidance is what I got.
There are so many organizations with entry-level sales positions that only have one goal in mind for their employees, and that's to hit the metrics. I get it, that's where a lot of success comes from for certain organizations, including Caktus, but there needs to be a balance. Taking on an entry-level employee has its risks, but if they show an interest in contributing more to the organization, it's important to invest time in their professional growth, and that's exactly what Caktus did for me.
I'll post an additional blog soon about how the guidance and support I received as a BDR led me to awesome new opportunities within the organization. Until then, stay sharp and check out the current job openings at Caktus!