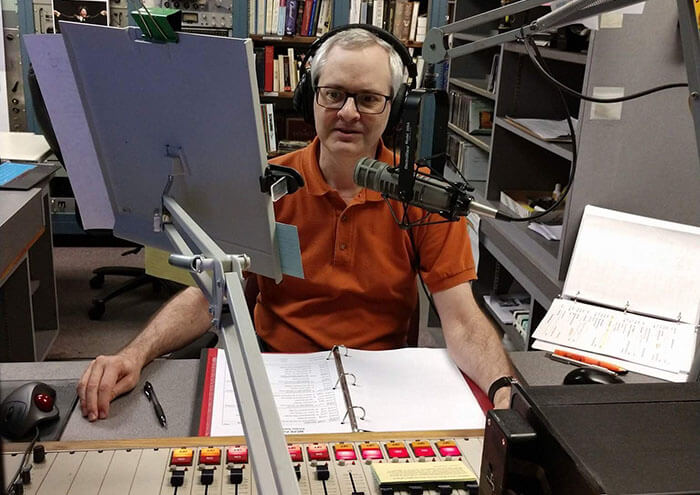 Pictured: Developer Dan Poirier is an advocate for WCPE and a volunteer announcer. WCPE is one of the recipients of our charitable giving program.
We are pleased to continue serving the North Carolina community at-large through our semi-annual Charitable Giving Program. Twice a year we solicit proposals from our team to contribute to a variety of non-profit organizations. With this program, we look to support groups in which Cakti are involved or that have impacted their lives in some way. This gives Caktus a chance to support our own employees as well as the wider community. For winter 2018, we were pleased to donate to the following organizations:
ARTS North Carolina
ARTS North Carolina "calls for equity and access to the arts for all North Carolinians, unifies and connects North Carolina's arts communities, and fosters arts leadership." Our Account Executive Tim Scales has been a board member and supporter of this organization for several years.
Learn more about ARTS NC.
Museum of Life and Science
The Museum of Life and Science's mission is to "create a place of lifelong learning where people, from young child to senior citizen, embrace science as a way of knowing about themselves, their community, and their world." Our Chief Business Development Officer Ian Huckabee is a current museum board member and sits on the executive and finance committees.
Learn more about the Museum of Life and Science.
Sisters' Voices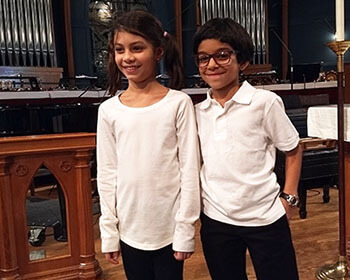 Sisters' Voices is a "choral community of girls, within which each is known and supported while being challenged to grow as a musician and as a person." Caktus Developer Vinod Kurup's niece Vishali and daughter Anika (pictured from left to right) are members of the Sisters' Voices choir. Vinod believes that being a member of the choir has "enriched their lives and taught them the love of music, and they developed an appreciation of their own voice."
Learn more about Sisters' Voices.
WCPE Radio
WCPE is a non-commercial, independent, listener-supported radio station, dedicated to excellence in classical music. Broadcasting includes service to the Piedmont area, Raleigh, Durham, and Chapel Hill on 89.7 FM. Their facility is staffed 24 hours a day, 7 days a week.
"WCPE gained the distinction of being the only public radio station in the eastern half of North Carolina to stay on the air during Hurricane Fran in 1996, acting as an Emergency Broadcast Relay station, providing weather information directly from the National Weather Service." Caktus Developer Dan Poirier is an advocate for WCPE and has been listening and donating for years. Last year, he trained as a volunteer announcer and now commutes 90 miles round-trip, 2-3 times a month to work a shift on the air.
Learn more about WCPE.
The Giving Continues!
Caktus' next round of giving will be June 2019, and we look forward to supporting another group of organizations that are committed to enriching the lives of North Carolinians!