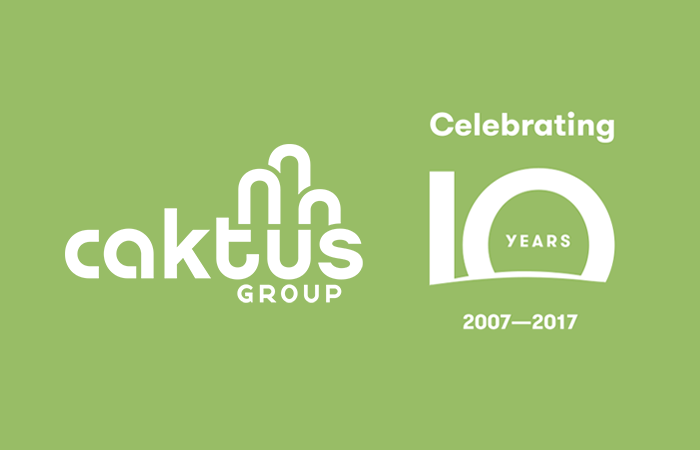 This year marks 10 years of building sharp web apps at Caktus Group. We're honored by the trust our clients have put in us; it has enabled Caktus to grow from a team of 3 Python developers to an organization of 31 people and supported our efforts to give back to the local and open source communities.
What do Caktus staff have to say about this milestone?
Looking back
Looking back on her 7 years of work at Caktus, Karen says, "It's been fun to go from 6 people to 30, be a part of that growth and work on communication and defining roles." She cites her enjoyment of building long-term customer relationships and being able to nurture projects from their early development to completion and improvement over time as her main reason for sticking with Caktus.
Mark, also with Caktus for 7 years, is proud of how his work here and the support of his colleagues provided opportunities to speak at community events and co-author Lightweight Django. He adds, "I feel like I've grown with this company and it's grown with me. I'm proud to say I work here. I remember my first DjangoCon when were were 5-6 people. I told someone I worked at Caktus and they said 'Oh, I've heard of you guys.' I knew then that we were doing something right."
Caktus Top 10s
django-project-template
django-scribbler
django-treenav
django-pagelets
fabulaws
django-email-bandit
margarita
django-file-picker
django-jsx
django-comps
Top 10 blog posts in the last year
As part of our commitment to giving back to the development community, we maintain a technical blog with tips for Django, Python, UX, and more. The collection has gotten pretty big over the years! Our 10 most popular blog posts, in order of views, are:
Building Apps the Right Way
Even with those top 10s, one of the things we're most proud of is our dedication to building web apps the right way. Caktus CEO Tobias McNulty says, "Doing things right is an ethos that extends to all areas of the business - not just app development. We've spent the last 10 years working to implement processes and systems that ensure we continually deliver excellent work to our clients and treat our staff with fairness and respect."
Caktus' core values guide both our internal and external interactions and have played a key part in growing Caktus to where it is today. We're confident they will also continue to drive our future growth.
We've encountered an immense variety of technical challenges in our 10-year mission to build web applications the right way. It is always a delight to bring that experience to bear on a new project. If you have a project that might benefit from Caktus' approach, don't hesitate to get in touch.