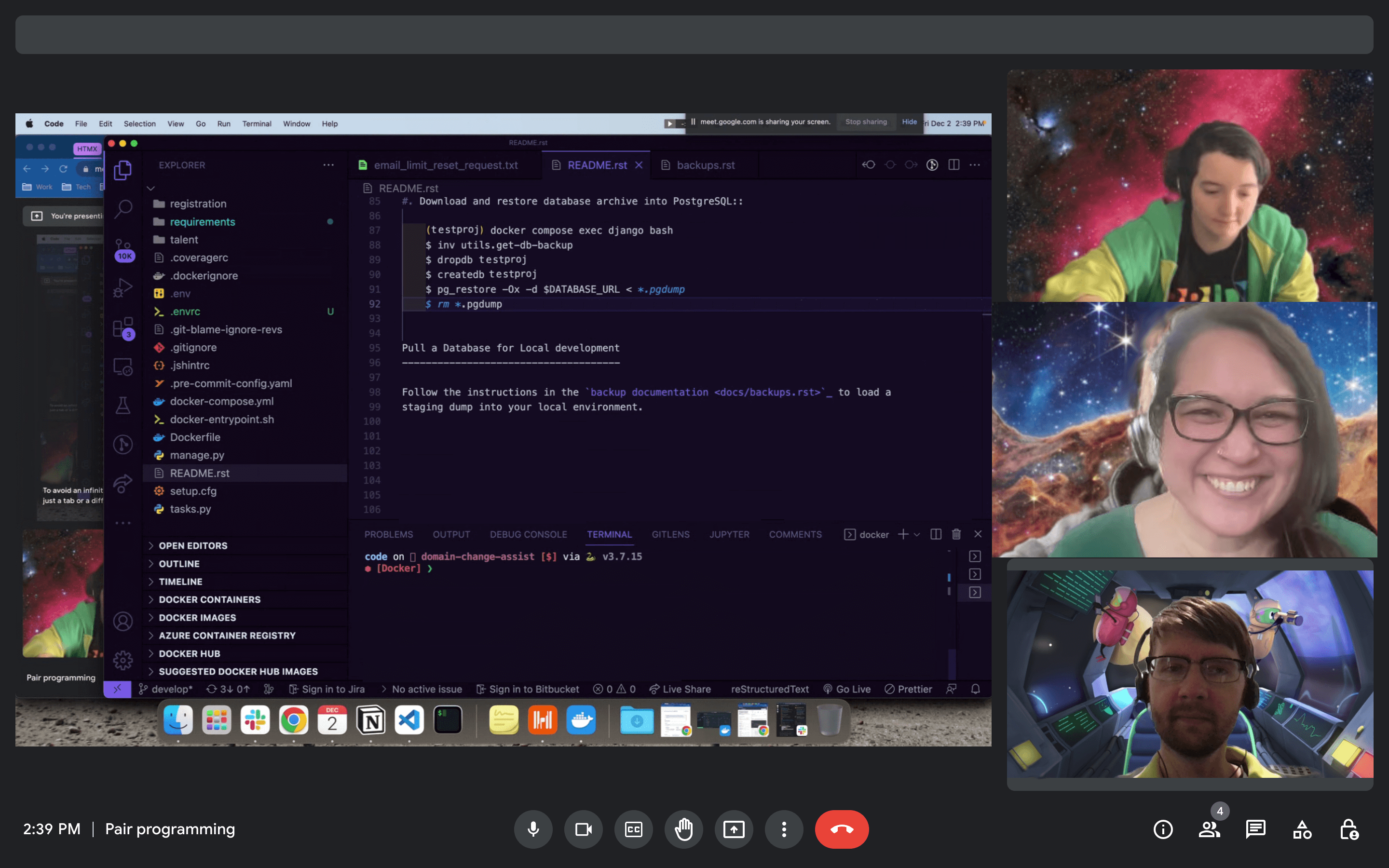 During the past year, we've begun a new program for folks looking for training prior to beginning a career in web development. This program has paired Caktus with a local coding bootcamp to sponsor several students' learning, and subsequently to continue our relationship with those students, which has led to a full-time position for several of them. Read below for details on how the fellowship has worked. Looking for more information about mentorship at Caktus? Check out A New Mentorship Program.
Partnership With Coding Bootcamp
Our fellowship program began with a partnership with a local coding bootcamp that saw us sponsor part of several students' tuition. Students who were accepted into the bootcamp were able to apply to be in Caktus's fellowship program, and those who were accepted into our fellowship began a professional relationship with Caktus. Their time at the bootcamp included learning tools commonly used at Caktus, such as Python, JavaScript, Django, React, and other web technologies. During this time, we also had several check-ins between the fellows and a development team at Caktus, in order to prepare them for the time after the bootcamp.
Fellowship Time
Following the completion of the bootcamp, fellows began their time at Caktus. For a few months, they were able to get familiar with a web development company, the tools we use, and the processes we follow, as they tried to apply the skills they learned in the bootcamp within a professional setting. Each fellow was placed on a development team and paired with a more experienced developer to support them in the transition to Caktus. Through weekly meetings with the more experienced developer, they were able to ask questions, get unstuck, and document their progress. The constant interaction with other members of the team also allowed fellows to experience development in a professional environment.
Post-Fellowship
At the end of their fellowship, the fellows and Caktus discussed the possibility of continuing as a full-time employee, or pursuing other professional opportunities elsewhere. As a company, we were in a position to hire all of the fellows, and all of them continued in a full-time capacity on their development team. Similarly to the fellowship, they continued work on their development team, and continued weekly meetings with an experienced developer, asking questions, documenting progress, and setting and working towards professional goals. Both fellow and experienced developer also left each other consistent feedback, celebrating progress and helping each other to grow.
Effects In Caktus
As a result of several fellows joining Caktus throughout the past year, we've seen some things change on development teams, to support less experienced developers. Through planned team pair programming times and planned lightning talks (~5 minute talks to introduce people to a topic), developers have shared knowledge with each other, which has led to growth for many on the team. More questions about our processes and development decisions has also made them more clear to others, not just fellows, and allowed us to improve upon what we have. Moreover, those involved in the fellowship have found the experience to be rewarding, and a great way to grow professionally.
Looking for more information about mentorship at Caktus? Stay tuned for more posts about our mentorship program.