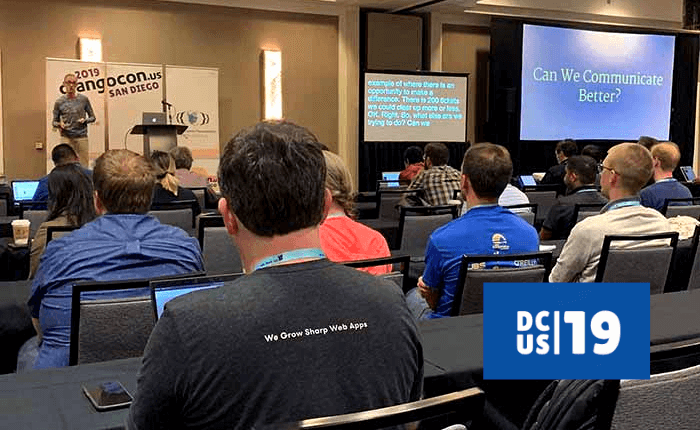 Above: Django Fellow Carlton Gibson gives a talk on "Your Web Framework Needs You: An Update."
Again this year, DjangoCon more than delivered on its promise of something for everyone. A keynote on burnout and balance? Thoroughly entertaining! Jessica Rose's talk left us in stitches. Who knew a talk about occupational burnout could be so fun? It was one of a wide range of subjects covered in three days of talks, bookended by a day of tutorials and two days of sprints. The conference took place in San Diego and ran from September 22 - 26. What a great week of learning and networking!
Caktus was honored to sponsor again this year, our tenth in a row. Attending this year from Caktus were Karen Tracey, lead developer and technical director; Jeremy Gibson, developer; Erin Mulaney, contractor developer; and myself, Ian Huckabee, CBDO.
The Talks …
The sessions packed a strong lineup of speakers with a diversity of topics, and this year, every word was captured with closed captioning.
Becoming your own boss means moving past fear! Rolling your own tech job with @_erin_rachel #DjangoCon pic.twitter.com/twG11vGhqX

— Caktus Group (@CaktusGroup) September 23, 2019
The Walks …
Kudos to the organizers for a second year at this location. San Diegans complain that when the temperature is below 70 degrees it's too cold, and when it's in the 80s it's too hot. By these standards, it was perfect all week. Which made the hotel's well-appointed breezeway perfect for between-session breaks to code, Slack, or hold a quick meeting in the sun. And the walking trails provided opportunities for head-clearing, light exercise, and, in the case of some attendees, a chance to get their minds around nothingness and identity in Python and Django.
#DjangoCon is my new favorite conference! Learned a ton, had a blast, and made many new friends. Love this community! ⛵️🥰

— Molly Schmidt (@Molly_cule) September 27, 2019
The Django Community Spirit ...
This six-day international conference "for the community by the community" was filled with a diverse and welcoming community. Django Fellow Carlton Gibson gave a quick update on changes that make it even easier to contribute to Django and offered ideas on how members of the Django community can get involved, and event organizers offered free workshops on contributing to open source and contributing to Django. As Carlton proclaimed in the title of his talk, "Your web framework needs you!" 🎥 Watch now.
We held our second annual Caktus Mini Golf event on Wednesday evening at Tiki Town Adventure Golf, and this year we had 52 RSVPs! This mid-week break gave us a chance to enjoy the ocean breeze and make new friends. Thanks to everyone who came out, and congrats to our winner Chris Gillispie who received a $100 Amazon gift card for shooting the lowest score.
We had a blast at the Caktus Mini Golf event last night! ⛳Thanks to everyone from @djangocon who came out and joined us. And congrats to our winner Chris Gillispie who received a $100 Amazon gift card for shooting the lowest score! #DjangoCon pic.twitter.com/eEHiNdjApo

— Caktus Group (@CaktusGroup) September 26, 2019
Thanks to all the organizers, volunteers, and fellow sponsors who made DjangoCon 2019 a big success. We look forward to seeing you again next year!