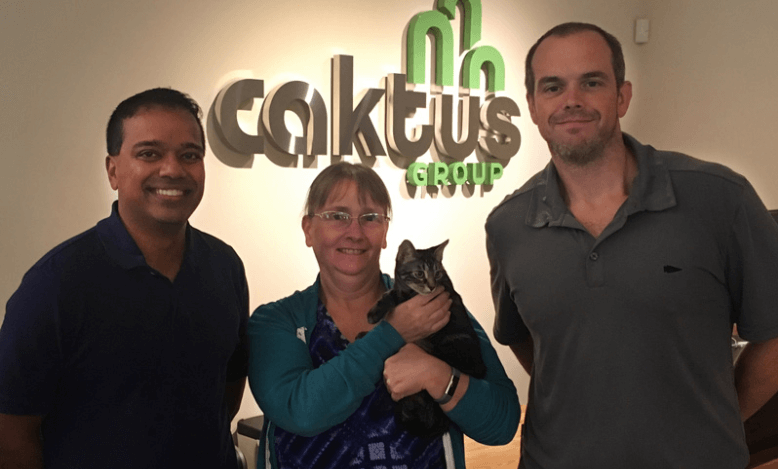 Pictured from left: Caktus team members Vinod Kurup, Karen Tracey, and David Ray.
The Caktus team includes expert developers, sharp project managers, and eagle-eyed QA analysts. However, you may not know that there's more to them than meets the eye. Here's a peek at how Cakti spend their off-hours.
Vinod Kurup, M.D.
By day Vinod is a mild-mannered developer, but at night he swaps his keyboard for a stethoscope and heads to the hospital. Vinod's first career was in medicine, and prior to Caktus he worked many years as an MD. While he's now turned his expertise to programming, he still works part-time as a hospitalist. Now that's what I call a side hustle.
Karen Tracey, Cat Rescuer
When Karen isn't busy as both lead developer and technical manager for Caktus, she works extensively with Alley Cats and Angels, a local cat rescue organization dedicated to improving the lives and reducing the population of homeless cats in the Triangle area. She regularly fosters cats and kittens, which is why you sometimes find feline friends hanging out in the Caktus office.
David Ray, Extreme Athlete
Software development and extreme physical endurance training don't generally go together, but let me introduce you to developer/sales engineer David. When not building solutions for Caktus clients, David straps on a 50-pound pack and completes 24-hour rucking events. Needless to say, he's one tough Caktus. (Would you believe he's also a trained opera singer?)
Pictured: David Ray at a recent rucking event.
These are just a few of our illustrious colleagues! Our team also boasts folk musicians, theater artists, sailboat captains, Appalachian cloggers, martial artists, and more.
Want to get to know us better? Drop us a line.