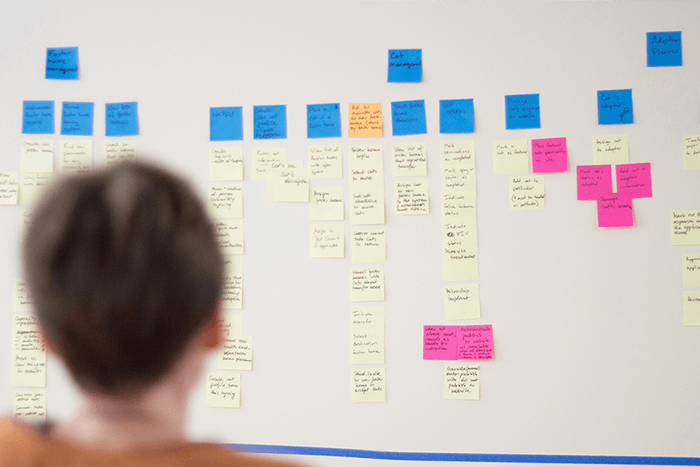 In previous blog posts on UX research methods, I discussed techniques we use to understand how users think and feel, what they need and want, and why; and those we use to analyze and understand user behavior.
Another group of techniques frequently included in UX research methods does not involve a direct study of users, but rather an evaluation of the landscape and specific instances of existing user experience.
Competitive Landscape Review
Competitive landscape review is typically done as a qualitative (generative or evaluative) study of a small sample of direct and indirect competitors. Direct competitors are companies that offer the same, or a very similar, value proposition to the same customer segment that our client serves. Indirect competitors are companies that offer a similar value proposition to a different customer segment from that served by our client.
During a competitive landscape review, we look at three to five direct competitors and no more than three indirect competitors. For each competitor, we analyze:
Market positioning
How long they've been on the market
What the delivery method of their software is
Who their primary user segments are
We also look for reviews of the competitors' products to better understand what their users like and what they don't like. Finally, we create a feature matrix to compare key features across competitors' products, and identify windows of opportunity for our client.
Content Audit
A content audit is performed as a qualitative, evaluative research method that can be employed to better understand the current state of an existing application or website. It is most relevant in the case of content-heavy, marketing websites that need redesign.
Content auditing is a process of creating and evaluating an inventory of all content and assets on a website, including recording content structure and relationships between content blocks. It may also include an analysis of the vocabulary used as part of the user interface in order to assess its quality and consistency. It is a great tool to employ ahead of a content modeling discovery workshop.
UX Review
A review of user experience of an existing website or application is a qualitative, evaluative method that allows the reviewer(s) to analyze the current state through one of the following approaches.
Heuristic Evaluation
This type of review compares the current state of a website or an application to an established set of usability heuristics (best practices or rules-of-thumb), and identifies where the current state falls short in terms of its adherence to those heuristics.
The best known and most widely-used set of heuristics was developed by Rolf Molich and Jacob Nielsen and has become an industry standard. Because this type of review relies on an established standard, it can be performed by anyone who has access to that standard. It is also recommended that a heuristic evaluation is done by more than one reviewer.
Expert Review
An expert review does not have to rely strictly on a prescribed set of heuristics. The set of best practices an expert review references may be broader or narrower. Some websites or applications may require an approach that does not adhere to all standard heuristics.
For example, Nielsen's heuristics stipulate "aesthetic and minimalist" design. While that guideline is considered the best practice for many types of application, it may not apply to some. In games, the experience relies heavily on a very rich (and certainly not minimalist) aesthetic. Because an expert review affords more flexibility than a heuristic evaluation, it should be performed by someone with an expertise in UX best practices. It can be done by one expert.
Selecting UX Research Methods for a Project
Evaluating the current user experience is done at the onset of a project. For a new project, or a redesign of an existing project, conducting a competitive landscape review can provide insights into user experience solutions already on the market and opportunities for innovation. A redesign project will benefit from taking stock of what is:
What are the structure and components of the existing content?
Does the design and experience of the current website adhere to established heuristics (rules-of-thumb)?
What best practices are currently not, but should be implemented in the redesigned application?
As is the case with other UX research methods, not all techniques listed in this group have to be employed on a single project.
If you're not sure what UX research will benefit your project most, get in touch. We can help.