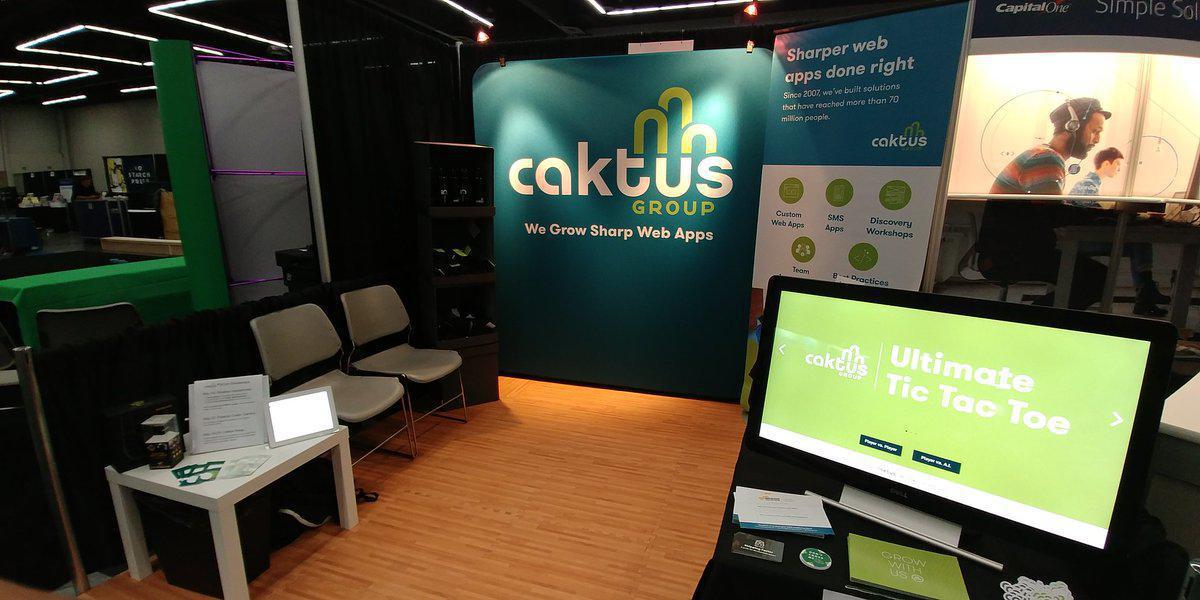 Caktus attended PyCon 2017 in Portland from May 18-21. It was the first PyCon for some, while others were PyCon veterans. All of us were looking forward to the opportunity to hear some great talks and make or renew connections in the Python community.
Getting Set Up
Right after arriving from the East Coast on Thursday it was time to set up for Day 1 of the expo. We eagerly prepared for the meet and greet opening night.
Our Ultimate Tic Tac Toe game made a comeback this year with a new AI feature. We only had 2 winners, although one of them beat the AI four times! (Our developers think it's time to turn the difficulty up to 11.)
Meetings and Giveaways
As expected, booth time was busy. It was exciting to welcome so many members of the Python community. We enjoyed chatting about what we do at Caktus and our work building web apps with Django, as well as making connections or meeting with people we haven't seen in awhile. Mark was excited to catch up with Tom Christie of Django REST Framework.
Best part of PyCon is being a shameless fanboy for those whose work makes my job easier ❤ https://t.co/s3sZQE8g9S

— Mark Lavin (@DrOhYes) May 20, 2017
In addition to Caktus swag, we had two prize giveaways on offer this year. The first one was a social contest on Twitter. Christine was our winner by random selection - congratulations!
The second giveaway was a random drawing of people who signed up for our newsletter. Congratulations to Mike for winning that drawing.
Lots to Talk About
Six Caktus developers attended a variety of talks and came out of each of them feeling inspired by fresh ideas.
Interesting idea from @_tomchristie: API mocking. Front End devs can get started immediately & this promotes API design first. #PyCon2017

— Erin Mullaney (@_erin_rachel) May 20, 2017
I'm feeling inspired to contribute to some #OpenScience projects after outstanding keynotes by @jakevdp and @katyhuff at #PyCon2017

— Jeff Bradberry (@jeff_bradberry) May 20, 2017
.@jsaryer demonstrating how mutation testing can prove that your "covered" code is actually being tested #pycon2017

— Charlotte Mays (@charlottecodes) May 19, 2017
We can't wait to see how they apply what they've learned to their work at Caktus.
After-hours Event
This year, Caktus hosted an exclusive, invite-only event at Fuse Bar. We were excited to welcome clients and special guests for sushi, nibbles, and refreshments.
Some of our clients are based across the country from us, so it was nice to have the opportunity to catch up in person and mingle.
Job Fair
We spoke to lots of interested developers at the PyCon job fair on May 21st. Some of the most common questions we received - and their answers - are below.
Question 1: Where is Caktus based?
Our office is in a lovely brick building in downtown Durham, North Carolina.
Question 2: What does Caktus do / What projects have you worked on?
Caktus is a consultancy and development agency. Work primarily focuses on building custom web and SMS apps in Python, using the Django framework. Some of our projects include building the world's first SMS-based voter registration system, a live event management app, and responsive, database-driven websites for clients in industries like food and beverage, travel and entertainment.
We also do team augmentation and offer discovery workshops to help our clients strategically plan out the user experience and technical development aspects of their projects. To find out more about our specialties at Caktus, visit our Services page.
Question 3: Do you have opportunities for remote work?
We hire remotely for some contract work, but full-time positions must be based out of our Durham office.
Question 4: Where can I find your current openings / How can I apply?
If you're interested in joining us at Caktus, check out our Careers page. We'll need a resume and cover letter, and encourage you to send a link to your GitHub, portfolio, or website as well.
Caktus is growing fast, and we're pleased to offer great benefits and a fair, equal-opportunity working environment. Why not grow with us?
Until next year!
As always, we had a great time meeting and mingling with our fellow Pythonistas. Thanks to the organizers for putting on another fantastic event, our fellow sponsors for supporting it, the volunteers who kept things moving, and of course, all the attendees for your energy and enthusiasm. See you next year!