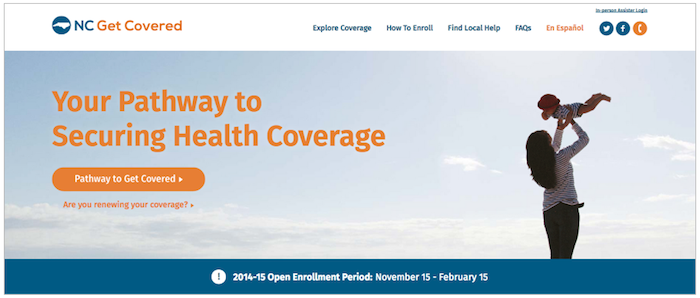 We've launched NCGetCovered.org, a site dedicated to helping North Carolinians gain access to health insurance. As many know, enrolling in health insurance can feel daunting. NCGetcovered.org aims to simplify that process by centralizing enrollment information and great resources like live help. The site is launching ahead of the November 15th open enrollment period for the federal healthcare exchange (healthcare.gov).
NCGetCovered.org is a testament to the hard work of the many dedicated to enrolling the uninsured. Caktus created the site on behalf of the Big Tent Coalition, a nonpartisan consortium of more than 100 organizations and 320 individuals pulled from community-based organizations, hospitals, insurance carriers, in-person assisters and non-profit organizations.
Taking the lead on this web project was our neighbor in Durham, MDC, a nonprofit dedicated to closing opportunity gaps and a Big Tent member. MDC is an incredibly forward-thinking organization and saw early on the need for a one-stop shop for health insurance enrollment information. We feel very fortunate to be MDC's partners in increasing health insurance access in our home state.