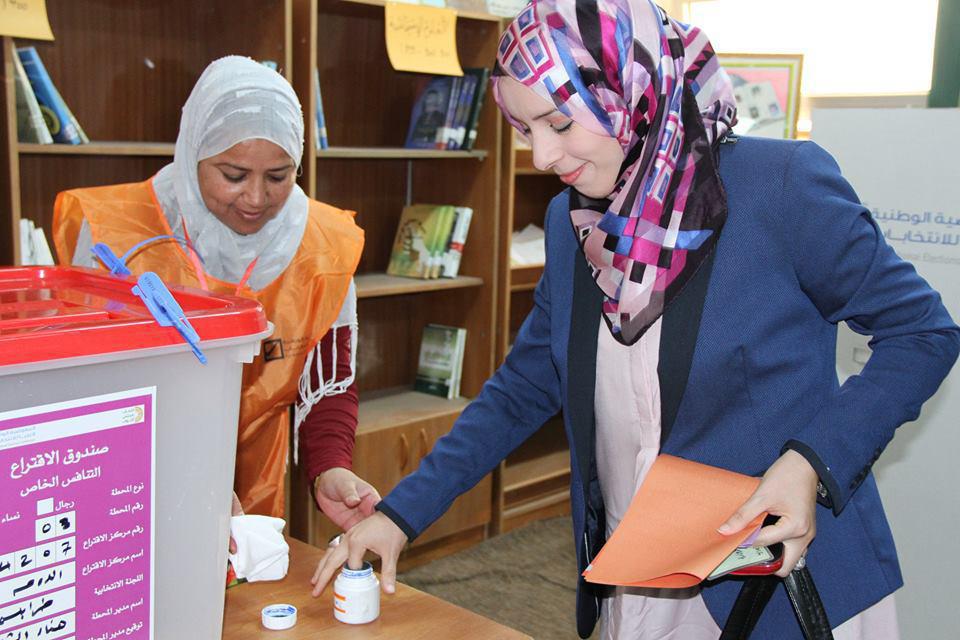 Election day voting on June 25th. Image courtesy of HNEC.
Since this interview was done, Libya's capitol began experiencing more violence. As of today, militias are fighting over control of the Tripoli international airport, the primary way in and out of this section of Libya. We're keeping our friends and colleagues in Libya in our thoughts in these truly difficult times. This post speaks to the energy and talent of the Libyans we've worked with during this challenging democratic transition.
I'm the project manager for our Libya voter registration by text message project, the first in the world. Two of our staff members, Tobias McNulty, CEO, and Elliott Wilkes, Technical Project Manager, were in Libya during the June 25th elections. Given the political chaos and violence surrounding the elections, the US team was worried for them. Tobias recently returned and Elliott left for Nairobi last week. Elliott was in Libya since August 2013. I asked them some questions about being in Tripoli, Libya's capital.
With the attempted coup just a couple weeks prior, what were tensions like on election day?
Tobias: One of the outcomes of the attempted coup in May was that the election date got moved up to June 25. This put everyone at the Libyan High National Election Commission (HNEC) on task to deliver an election much earlier than originally planned. I'm proud to say that Caktus and HNEC worked closely together to step up to the plate and meet this mandate successfully.
Elliott: Tripoli was plastered with advertisements about the election, both from HNEC and from candidates themselves. Most of the security presence in Tripoli kept to their usual posts on election day, the gas stations. Due to distribution issues and a resulting panic about petrol supplies, there was a run on gas in the city, and army and police vehicles helped guard gas stations to keep the peace while people spent hours in line waiting to top up. In spite of or perhaps because of this security presence, we didn't witness any violence while in Tripoli during or in the days leading up to, during, or following election day. With a few marked exceptions this election proceeded largely without incident - a great success for HNEC. However, one act of violence just after the election did shake the country: the murder of humanitarian Salwa Bugaighis in Benghazi. We were all deeply saddened to hear about that significant loss.
Tobias: Yes, that was tragic. It was hard news for all of us.
How did the voter registration system function on election day?
Tobias: There were three things that HNEC and the citizens of Libya could use our text message-based voter registration system for on election day. First and foremost, poll workers and voters could use it to double check individual registrations and poll locations. Second, to track when polling centers opened so HNEC staff knew which centers needed additional support. And lastly, poll workers could send texts of number of voters that arrived, giving HNEC real-time turnout figures.
Elliott: On election day, we helped the polling center staff with message formatting, and performing custom database queries to assess progress throughout the day. It's a real testament to our work that we encountered no technological issues throughout the election process. The system successfully handled nearly 100,000 text messages on election day alone.
What was the mood like at elections headquarters as the count of voters came in?
Tobias: At HNEC offices on election day, the mood was positive and optimistic. We had 1.5 million registrants in the system. We arrived early in the morning, and as the HNEC staff began to arrive, on numerous occasions the office stood and sang along to the Libyan national anthem. We joined in too of course. The flow was busy, but not unmanageable. We worked long days and accomplished much in the days surrounding the election. But thanks to adequate preparation on the part of HNEC and our team the workload was not unmanageable.
However, among citizens there is clearly some work to do in terms of motivating voter turnout on election day. Several citizens we talked to were indifferent to the elections, and expressed some distrust in elected leaders generally. That said, elections are still relatively new to Libya, and I think we need to moderate our expectations for how quickly they'll grow in popularity.
Elliott: Having worked on a number of elections around the world I've come to the conclusion that the best election days are the boring ones - that is to say, those without incident. If you've done your job well, you go into election day with hours upon hours of preparations for all different outcomes and possibilities, plans A, B, C, to Z. You've spent weeks and months building a massive ship and all that's left to do is enjoy the ride. And thankfully, due to our exhaustive preparations, everything was smooth sailing.
What was it like working with the Libyan government?
Tobias: While from the outside Libya may look like an unstable country with lots of negative coverage in the news, the reality on the ground is that working with HNEC has been a real pleasure. The operations staff at the Commission are motivated to continue strengthening democracy in the country, which was evidenced by the long hours many put in in the days leading up to and following the election. We're honored that the government of Libya selected Caktus as the technology partner for this highly impactful project.
Elliott: Tobias, I couldn't agree more. Working on this project has been extraordinary. There's something special about working with a group of young, committed citizens putting in the extra hours to ensure their electoral process is as inclusive as possible, especially given that for over forty years, government services in the Libya were everything but. Their commitment to the pursuit of democracy and everything that entails has made this project a real pleasure and a deeply humbling experience. I'm proud that we've been able to support them at this critical junction.
We've seen the photos, but want to hear you list the pizza toppings!
Tobias: Ha, the rumors are true. The Libyans put all sorts of things on their pizza, the two most prominent of which are often canned tuna fish and french fries. Ketchup and mayonnaise are two other favorite toppings.
Elliott: It tastes terrible. Honestly, I prefer shawerma. The pizza toppings in Libya can be...a bit exotic for my taste.
Tobias: Luckily, there's other food and the staff at HNEC didn't hesitate to invite us in to join their meals. It was a pleasure to break bread with the staff at HNEC during such a momentous week for the country of Libya.

Photo by Elliott Wilkes.