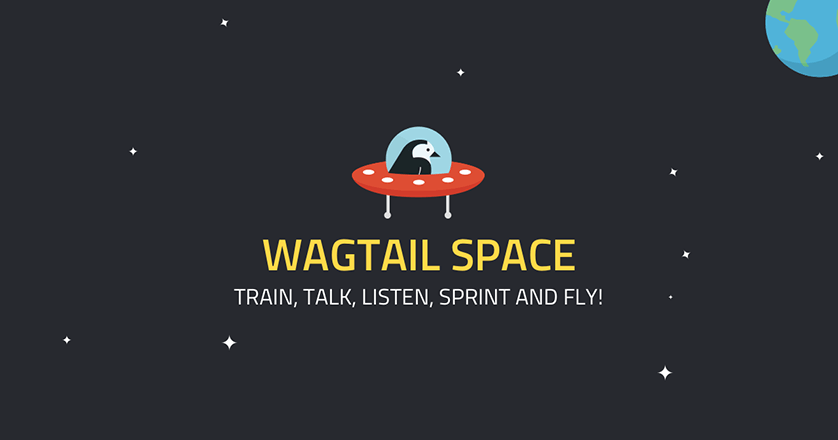 It's no secret that Caktus ❤️'s Wagtail, our favorite Django-based CMS. On July 25, I had the pleasure of attending Wagtail Space US, an annual convening and celebration of all things Wagtail at The Wharton School at the University of Pennsylvania. After a couple days of talks, workshops, and sprints, we're even more excited by what Wagtail can offer us and our clients.
Tom Dyson, Technical Director at Torchbox, kicked off the first day with a "State of Wagtail" overview (pictured right; photo by Will Barton).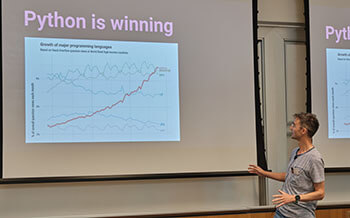 He highlighted Wagtail's increasing traction as the most popular CMS on the fastest growing software language (Python). From Google to NASA to the UK Government, big names are increasingly investing in Wagtail applications. At the same time, the Wagtail core contributor team is growing as more developers around the world invest their time and expertise to improve the core application. In short, it's a good time to be working with Wagtail. Watch the full presentation.
On the topic of growth, several speakers discussed new extensions and distribution models for Wagtail. For example, Brian Smith and Eric Sherman from Austin's Office of Design and Delivery demonstrated their new guided page creation model, which provides content creators with a templatized page creation wizard. This allows organizations running Wagtail to distribute content creation while maintaining a consistent voice and style guide.
Additionally, Vince Salvino from web development firm CodeRed gave a practical demonstration of CodeRed CMS, a new distribution tool that aims to streamline the deployment and delivery of Wagtail-based sites. CodeRed has open sourced this package, making it available for any team seeking to rapidly deploy and customize a Wagtail marketing site.
Two back-to-back talks focused on accessibility, including Torchbox's Thibaud Colas (pictured; photo by Will Barton) discussing improvements to the tab stop and voiceover features of the Wagtail admin interface. See his presentation. Plus, Columbia's Zarina Mustapha covered her team's implementation of voiceover accessibility using custom Wagtail fields. Watch her presentation.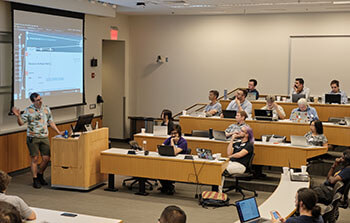 The second day sprints also encouraged a focus on accessibility, and it's great to see the Wagtail community embrace accessibility as a core requirement.
I particularly enjoyed Naomi Morduch Toubman's talk on "Thoughtful Code Review." Naomi is a Wagtail core contributor, and spoke about how developers can be positive and productive collaborators via code review on not just Wagtail but any shared project. Her message aligns closely with Caktus's philosophy towards team-based software development, and could be considered required watching for any developer seeking to be a stronger team member.
Finally, Tim Allen — IT Director at The Wharton School and a driving force in the Wagtail community — gave an impassioned talk that explored both personal experience and technology. While the technology focus was on an organization's adoption of Wagtail to improve communication and user experience, Tim also spoke eloquently about the power of proactive community and the sometimes lifesaving importance of inclusivity.
Caktus will be back at Wagtail Space in 2020, and we look forward to seeing the event's continued growth and success!
Are you interested in exploring Wagtail for your CMS needs? We'd ❤️ to talk to you!