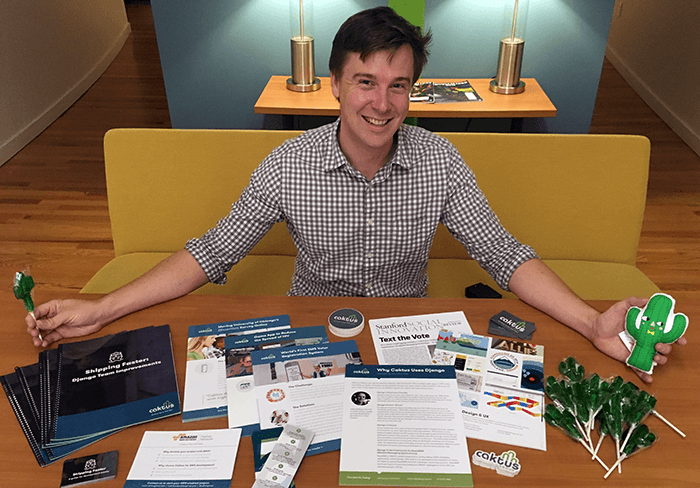 Above: Caktus Account Manager Tim Scales gears up for DjangoCon.
We're looking forward to taking part in the international gathering of Django enthusiasts at DjangoCon 2018, in San Diego, CA. We'll be there from October 14 - 19, and we're proud to attend as sponsors for the ninth year! As such, we're hosting a mini golf event for attendees (details below).
This year's speakers are impressive, thanks in part to Erin Mullaney, one of Caktus' talented developers, who volunteered with DjangoCon's Program Team. The three-person team, including Developer Jessica Deaton of Wilmington, NC, and Tim Allen, IT Director at The Wharton School, reviewed 257 speaker submissions. They ultimately chose the speakers with the help of a rating system that included community input.
"It was a lot of fun reading the submissions," said Erin, who will also attend DjangoCon. "I'm really looking forward to seeing the talks this year, especially because I now have a better understanding of how much work goes into the selection process."
Erin and the program team also created the talk schedule. The roster of speakers includes more women and underrepresented communities due to the DjangoCon diversity initiatives, which Erin is proud to support.
What we're excited about
Erin said she's excited about a new State of Django panel that will take place on Wednesday, October 17, which will cap off the conference portion of DjangoCon, before the sprints begin. It should be an informative wrap-up session.
Karen Tracey, our Lead Developer and Technical Manager, is looking forward to hearing "Herding Cats with Django: Technical and social tools to incentivize participation" by Sage Sharp. This talk seems relevant to the continued vibrancy of Django's own development, said Karen, since the core framework and various standard packages are developed with limited funding and rely tremendously on volunteer participation.
Our Account Manager Tim Scales is particularly excited about Tom Dyson's talk, "Here Come The Robots," which will explore how people are leveraging Django for machine learning solutions. This is an emerging area of interest for our clients, and one of particular interest to Caktus as we grow our areas of expertise.
Other talks we're looking forward to include:
Follow us on Twitter @CaktusGroup and #DjangoCon to stay tuned on the talks.
Golf anyone?
If you're attending DjangoCon, come play a round of mini golf with us. Look for our insert in your conference tote bag. It includes is a free pass to a mini golf outing that we're hosting at Tiki Town Adventure Golf on Tuesday, October 16, at 7:00 p.m. (please RSVP online). The first round of golf is on us! Whoever shoots the lowest score will win a $100 Amazon gift card.*
No worries if you're not into mini golf! Instead, find a time to chat with us one-on-one during DjangoCon.
*In the event of a tie, the winner will be selected from a random drawing from the names of those with the lowest score. Caktus employees can play, but are not eligible for prizes.