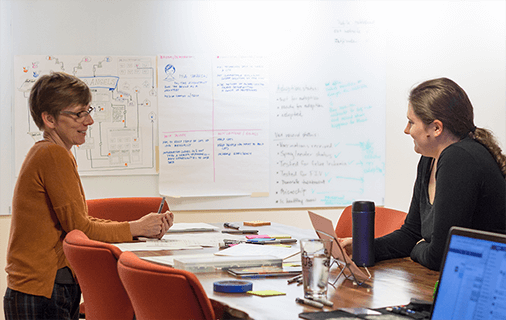 If you ever struggled to implement a complicated development project, starting your next one with a discovery workshop will help. Discovery workshops save you time and money over the course of a project because we help you answer important questions in advance, ensuring that the final product lines up with your primary end goals. Our new guide, Shared Understanding: A Guide to Caktus Discovery Workshops, demonstrates the value of these workshops and why we've made them a core component of our client services.
Set Your Project Up for Success
Discovery workshops are vital in defining a project and are an ideal way to overcome the challenges that arise when multiple stakeholders have varying opinions and conflicting visions. By facilitating a discovery workshop, we create a shared understanding of the project and ultimately streamline the development process to ensure that our clients get the best value for their investment. Projects that begin with a discovery phase are more successful for these simple reasons:
They cost less because we build the right thing first
They're done faster because we focus on the most valuable features first
They have better results because user needs are prioritized from the start
Discovery workshops are part of our best practices for building sharp web apps the right way. We've proven that these workshops ensure that projects not only hit their objectives but that they do so on budget, reducing the likelihood of requiring additional work (or money) further down the line.
Get Our Guide
Shared Understanding: A Guide to Caktus Discovery Workshops explains what a Caktus discovery workshop is. It also:
Demonstrates how to achieve a shared understanding among stakeholders
Provides techniques to uncover discrepancies or areas lacking clarity in the project vision
Explains how this knowledge translates into tangible benefits during the project estimation and development process
The guide is an introduction to the aspects of user-centered requirements gathering, which we find most useful at Caktus, and we hope you'll take a moment to read the free guide: