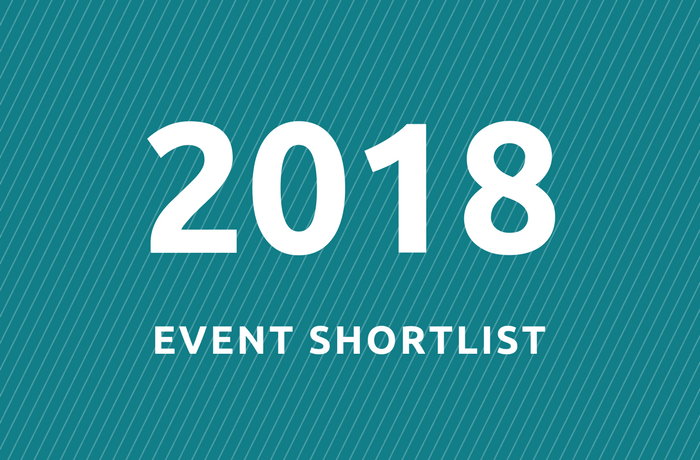 The Caktus team attends a number of conferences each year to learn about the latest tips and tools. Several of us also go to events to share knowledge as speakers or sprint leaders. Using our varied experiences, we've put together a list of the events we're looking forward to next year.
February
NN Group hosts this conference for UX best practices. Our team appreciates the chance to train with industry thought leaders and take advantage of certification opportunities. Courses cover a range of skill levels, from beginner to advanced, so there's a little something for everyone.
For more information about why you should attend, NN Group has an article including reasons, testimonials, and video. Not able to go to the West Coast? There is also a Washington, D.C. event in April.
March
TestBash Brighton - Brighton, United Kingdom (QA Testing)
Based on a good experience at TestBash Philadelphia, our QA team is excited about next year's event in Brighton, UK. TestBash is described by the team as an opportunity to make connections and discuss the future of QA.
DisruptHR - Multiple Locations (Management / HR)
Recruiting and retaining top employees is important for any business. This conference is recommended by our HR staff for managers and HR professionals looking to try something new to support, grow, and encourage their teams. It's full of interesting lightning talks on the latest trends in HR with a modern perspective, leaving attendees feeling inspired and ready to approach challenges from a different angle.
Some locations also have events in April.
April
The event of the year for Scrum masters. Head to Minneapolis in April (or London in October) next year to learn new applications and best practices for Scrum.
Wondering if it's for you? Scrum Alliance has their list of top 10 reasons to attend.
Quality Jam - Atlanta, GA (QA Testing / Development)
Quality Jam is an event for those looking toward the future of QA testing. It promises to provide real-world solutions to software development challenges. Our team hopes to pick up the latest techniques for testing while getting some hands-on training.
deliver:Agile focuses on the tools and techniques behind Agile engineering and architecture. This conference welcomes not only project managers and developers, but also data scientists, UX and QA professionals, cloud specialists, and more in recognition of the diverse set of skills found on an Agile team.
May
PyCon 2018 - Cleveland, OH (Development)
While there are many great tech, Python, and Django events, PyCon is by far the most anticipated event here at Caktus. Why is it so popular? Our team appreciates the talks, tutorials, and development sprints; enjoys exchanging information on innovating with Python; and picks up insights from other Pythonistas.
There's also the interpersonal aspect. Each year, Cakti look forward to reconnecting with peers, building new relationships, and uncovering partnership opportunities. The size of the conference, with nearly 3400 attendees in 2017, means that there is ample opportunity to meet Python enthusiasts and community leaders.
Those of our team who attend always pick a few of their favorite talks out of the many good ones delivered and add them to our PyCon Must-see Series. If you've never been to PyCon and are looking for a taste of what it's like, check out those videos.
June
Eyeo Festival - Minneapolis, MN (Development / Data Visualization)
Data gains an extra punch when combined with visuals, and this event has been described by our team as "dataviz heaven". Topics include everything from gestural computing to data art, so if the intersection of data and design is your thing, take a look at this one.
August
Agile2018 - San Diego, CA (Agile / Project Management)
Our project managers and Scrum master highlight Agile2018 as a conference that provides an excellent opportunity to learn trends and new ideas. This is a good generalist conference for anyone working with Agile and encompasses a wide range of topics.
October
DjangoCon is another staple for the Caktus team. As a Django-focused company, Caktus has sponsored and attended the last eight DjangoCon events as well as sending numerous team members. It's a smaller conference than PyCon, offering a friendly atmosphere and an inclusive, supportive community of Django developers, with talks on a range of relevant topics. In 2017, those talks included one from a Caktus developer on writing an API for almost anything.
If you develop with Django, want to learn more about the framework, or are looking for Django-driven software vendors, this is a good conference.
All Things Open - Raleigh, NC (Development / Open Source)
When they say "all things open," they're not kidding. Open source, open web, and open tech are all covered here. This is a big event, with 3200+ attendees in 2017, so get ready to make new connections in the open community.
One of the other reasons we like this conference is the focus on diversity and inclusion, with initiatives to ensure underrepresented groups can attend.
Check out their list of reasons to go.
TBD
Red Hat Agile Day - Raleigh, NC (Agile / Project Management / QA)
This conference is free and there are always some good talks that inspire our team. This year's included a presentation by an opera singer, which provided new perspectives in thinking about Agile's applications. Consider going for a fresh take on Agile.
This event was last held in October 2017.
OnAgile - Online Event (Agile / Project Management)
Another conference presented by Agile Alliance, OnAgile is one of the more affordable events for attendees and accessible for those who can't catch it live, with recorded sessions for later viewing. This event aims to bring Agile to everyone and was last held in October 2017.