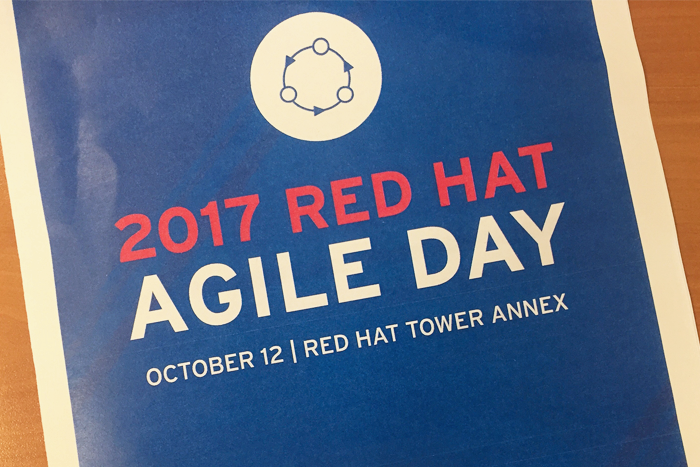 Have you ever heard anyone sing opera during a tech-focused conference? Neither had I, until now.
Red Hat Agile Day, held in downtown Raleigh, recently provided this unique opportunity. The theme of the 2017 Red Hat Agile Day was "Agile: brokering innovation; bringing together great ideas." The conference certainly lived up to that theme with a diverse line-up of speakers, including a former professional opera singer who bookended his presentation with songs. One was a creative, original ballad about being an Agile product manager (see the lyrics here), which he delivered at full blast, because how else can you sing opera?
The exuberant vocal performances by Agile Product Manager Dean Peters certainly took the attendees by surprise - the shocked looks around the room were priceless. Instantly, I knew this was not going to be the average presentation on the Agile mindset, process, or procedure. Peters' presentation on "Five Things I Learned About Lean MVP as a Professional Opera Singer" was not only entertaining but also informative. His delivery also makes it one presentation I won't easily forget.
Peters compared his experiences as an opera singer to those as a coder and Agilist, making connections between the stage and the computer screen. He explained that operas are produced iteratively, being an aggregate of many small components, with production milestones, and a release plan. Yup, definitely sounds like Agile software development.
He also went into detail about how developing a stage character is like developing a user experience persona for a website, and that doing so could increase empathy and understanding for clients, stakeholders, and end users, ultimately improving the Minimum Viable Product (MVP). I agree that creating personas is a valuable practice since it helps the product owner and the development team to better understand the audience and end-users, ultimately leading to a product that's more tailored to the end-user's needs. To help construct personas, Peters recommends using characterization tools from theater and leveraging acting exercises and games to gain empathy. I plan to keep these exercises in mind and hope to use them at Caktus.
Practice is another key element that Peters highlighted. Just as actors practice for a performance, developers should practice for a client or sprint demo. Peters elaborates on this in a blog post on "10 things singing opera taught me about product demo prep."
The Broader Applications of Agile
As it turned out, the connection between opera and Agile development wasn't as much of a stretch as I thought it was, and Peters' comparisons were insightful and easy to follow (his slides are available online). It made me realize how inclusive and universal the Agile mindset is, and how applicable it is to other professions, not just software development. In reality, it is probably already being applied without us even realizing it, like in the writing process. Writing this blog post, for example, was an iterative and Agile process, broken down into phases which could be compared to sprints - drafting, reviewing, editing, finalizing, and then releasing.
While realizing the broader applicability of Agile, a statement on the Red Hat Agile Day website struck me. It challenged attendees "... to connect the ideas and insights you'll be gathering for new innovation." The sharp team of seven Caktus project managers and quality assurance analysts who attended the conference have already discussed some ideas that were spurred by the various presentations at Red Hat. For example, we're looking into Acceptance Test-Driven Development (ATDD), which was presented by Ken Pugh. It would provide a different way for Caktus to view testing and would help developers and testers to better understand our customer's needs prior to software implementation. While ATDD is not new, it would be new for Caktus and would result in an altered workflow and a shift in mindset regarding testing. If we move forward with it, it will be interesting to see the results of this Agile innovation.