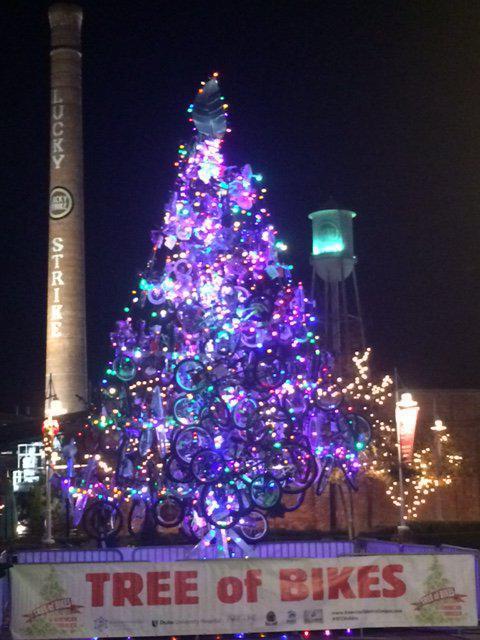 This year, our neighbors at American Tobacco Campus (ATC) hosted Durham's first ever Tree of Bikes event to help collect and distribute new bikes to children in need in the local community. The tree is a 25-foot tall sculpture made entirely of new children's bicycles donated by individuals and local businesses in the Triangle. The bikes are then distributed to children living in the Cornwallis Road affordable housing community managed by the Durham Housing Authority.
Having heard about the drive in a tweet from ATC, Caktus employees were incredibly excited to participate. We all chipped in to buy a beautiful and sturdy little bike from our next door neighbors at Bullseye Bicycle. The great team at Bullseye made sure the bike was ship-shape for immediate riding! In addition, they were kind enough to provide a voucher for free tuneups and care on the bike for one year after purchase.
In conjunction with Habitat for Humanity and Happy Roots Entertainment, the bikes were collected at ATC throughout the month of November. The organizers reached their goal of collecting 120 bikes for the tree, which was lit in a ceremony held on December 4th. Though Happy Roots has been distributing bikes to children in affordable housing communities for the past 7 years, the number collected for Tree of Bikes will enable Happy Roots to provide bikes to ten times as many children than in the past.
Tree of Bikes is on display at ATC until December 18th, when they will be distributed to their new owners. Be sure to check out the tree while you can!