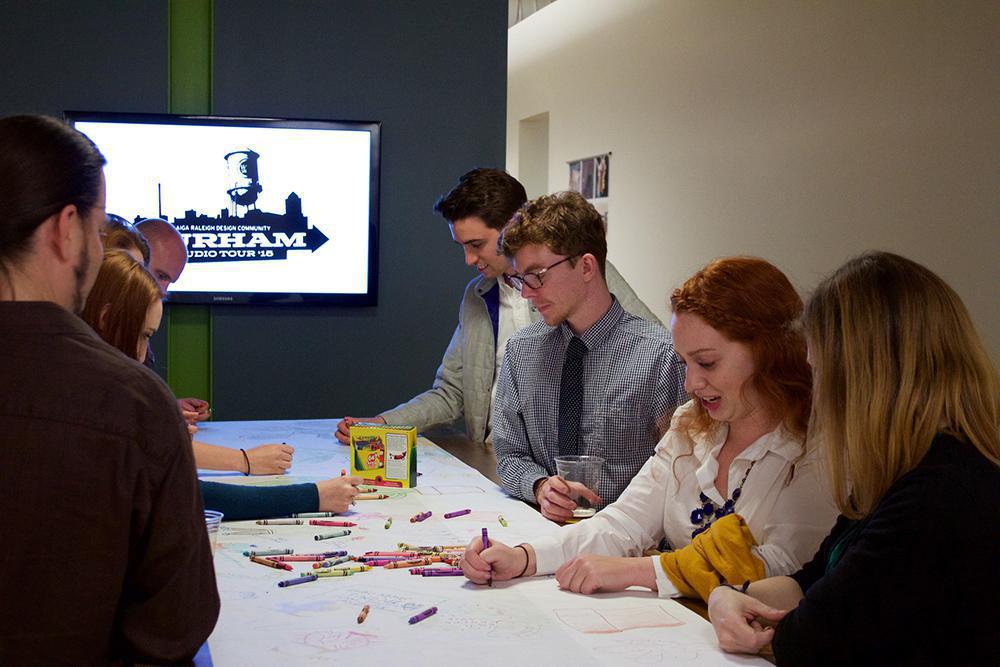 This was the first year Caktus Group participated in the AIGA studio tour and the turnout was amazing. From 5:30 PM till the 9:00 PM close, we had visitors ranging from students to tenured professionals in the design and web development fields sharing stories and touring the newly renovated Caktus Group office. Members from the Caktus design, development, and management teams were present to field questions, give tours, and show select works from the past year.
From the Epic Allies team, visitors got to see a preview of the app's mini games and designs. Epic Allies is an app that seeks to gamify the process of taking HIV medication. The goal is to help HIV-positive individuals develop and maintain positive habits around taking their medication and making other healthy life choices. The Epic Allies project has been in progress since 2012 and it's been great to see it evolve.
Visitors were also able to view and explore the 2015 PyCon website. The design and development of the website were completed by Caktus Group in early 2015. Elements of the design were then used throughout the PyCon conference venue in Montreal. The bright winding forms of the design worked well on screen, but they really enveloped the venue and tied everything together. It was a fantastic project made possible by the hard work of many Caktus staff and the conference organizers Ewa Jodlowska and Diana Clarke, who were great to work with.
Finally, there was a behind-the-scenes video of the Caktus Group reception sign installation and the original install template. The video was shot and edited by Caktus' Wray Bowling and showed the start to finish process of installing the reception sign that was beautifully crafted by Jim at ArtCraft Sign Company - Thanks, Jim. Having missed the actual installation of the sign, I'm glad Wray captured the process.
By the time 9 PM rolled around, a lot of work was viewed, beers were drunk, and information was shared with new friends. If you didn't make it out for this year's AIGA studio tour, don't be sad. You can still make it out next year. There are a lot of talented people in the Triangle and with so many open studio doors you're bound to run into more than a few of them.