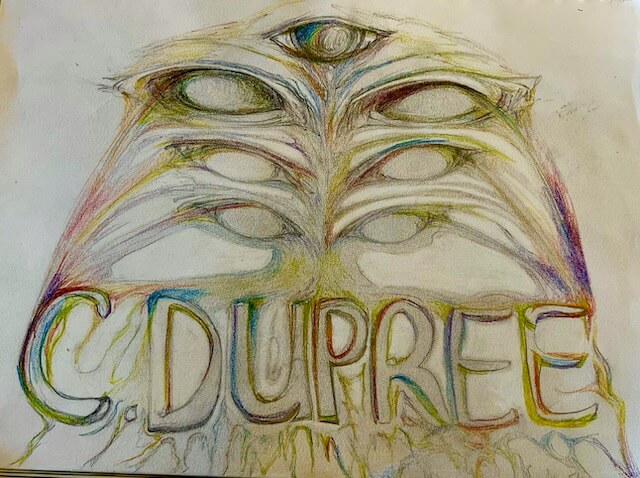 Artwork by Myk'l Hanna
Café Rouge was busy today. Servers bustled about, taking orders and delivering food. The design reminded Morgan of a cafe he had frequented in London. The floors were shiny and clean, gray-flecked white tile. Booths lined every wall, standing out from the white floor in stark contrast with vibrant red vinyl seats and red and white backrests. A crowded bar occupied the back third of the cafe, with gleaming silver stools packed in closely. Between the booths and the bar, tables were arranged like a checkerboard, leaving enough space for several servers to flit from table to table.
Morgan had some time before his next meeting, a long client check-in, so he thought he might stop in and have some coffee. After sliding into a booth near the front of the shop, his phone pinged him to alert him that he had a Slack message. He read through the message and was slightly perturbed that someone was adding an additional agenda item this close to the meeting, but as he started to respond, the server interrupted his thought.
"Good morning, Morgan. Thanks for stopping in. Would you like to reorder what you had last time?" the server asked.
Morgan glanced at their nametag and responded, "Hey, Dutch. Umm, remind me what that was, it's been a minute since I've been in."
Dutch, smartly dressed in black jeans and a flannel with sleeves rolled up to show off Japanese woodblock-style tattoos, scrolled through their tablet and read off, "It looks like you ordered a Large Americano with one sugar and a snickerdoodle on May 2nd. We don't have snickerdoodles today, but it looks like you also enjoy brioche bread with butter – could I get that started for you?"
Morgan couldn't remember ever having brioche bread here, but he did enjoy it. "Sure, that sounds great. Thanks, Dutch."
Dutch tapped their tablet and nodded, "Did you want your brioche bread toasted?"
Morgan nodded absently as he went back to replying to the agenda item that his co-worker Annie had asked for in Slack. "Thanks, you too."
Dutch paused for a moment before saying, "I'll have that right out for you. Thanks, Morgan." Dutch backed away, tapping at the tablet screen, weaving their way through the tables to the espresso machine behind the counter.
Morgan finished replying to his message and locked his screen. Almost immediately after he heard his phone lock with a click, he felt the table buzz.
"ONE PRODUCT YOU CAN'T LIVE WITHOUT. THIS LITERALLY CHANGED MY LIFE…" flashed in header text across the table. The "Show Me" button flashed, provokingly. Morgan swiped the notification away and it was replaced by a list of items he could order and have shipped (same day!) to his apartment. Morgan reflexively went to swipe this away as well, but his eye was caught by something he had been looking at for a couple of weeks now.
Morgan had seen them first in a Twitch ad. He had been complaining that he couldn't hear out of his left earbud to his girlfriend as they were walking home from the gym and the ad had created a brain worm that same night. DOSE had new noise-canceling earbuds that supposedly blocked out -100db of sound and he had been thinking that sounded great ever since he had heard it. The city got so loud that he couldn't sleep some nights and he wouldn't have to hear his girlfriend snoring anymore. He might finally be able to shut out the rest of the world and get some real rest.
As Morgan wrestled with himself, a review for the earbuds popped up with a headline that read, "Possibly too good" and a subline that read, "How I almost walked in front of a bus I couldn't hear." Morgan scrolled down through the review, looking up briefly to nod his thanks at Dutch, who had returned with the Americano and brioche.
"Those are great." Dutch said.
"What's up?" Morgan asked.
"Those earbuds are great. They have a 96 meta-rating. CNET said they're the biggest leap forward in noise-canceling technology in the last 10 years." Dutch stated flatly, almost like a bad actor reading a cue card.
Morgan looked down at the ad again and then back up to Dutch, "Alright. I appreciate you letting me know…"
Dutch tapped their watch and leaned over the table to touch the display. This brought up a special window and Dutch leaned back to show Morgan.
"Based on your Platinum Credit and Consumer score, I could offer you today's meal for free if you would like to go ahead and purchase those earbuds." Dutch said.
Morgan was caught. He knew he was going to bite on this offer, but it needed to really be worth it. Maybe he could get a little more out of Dutch. His meal was only going to be around 8 dollars, which wasn't much of a discount, considering the earbuds were $400.
"Would I be able to add anything else to my meal today?" Morgan asked.
Dutch scrolled through something on their watch and offered, "We could do up to a total of $15 if you wanted to add something more to your order."
Morgan considered this for a moment. 15 dollars wasn't bad. His meal would be free today. He had only intended to get some coffee and some toast, but he could probably also go for a breakfast sandwich. Anything he didn't eat; he could take home.
"Okay, how much is the egg and cheese croissant?" Morgan asked.
"It's 5.99, so that would put you at 13.75." Dutch confirmed.
"Okay, let me get two of those and then I'll just pay the extra," Morgan replied.
Dutch added the food to the order and then said, "Okay, if you could just go ahead and confirm your purchase of the earbuds, I will get those sandwiches started for you. Did you want those for here or to go?"
Morgan confirmed his shipping and payment details as he absently responded, "To go, please."
Morgan clicked the "Pay Now" button on the screen and got his order confirmation. Dutch also pressed on the screen to confirm the discount to the food order.
As Dutch walked away, Morgan noticed there was a man out front who was pulling on the door, but the door wasn't opening for him. There was a large red light that shone suddenly around the entryway and a display that blazed "NO ENTRY FOR THOSE BELOW 650 COMBINED CREDIT & CONSUMER SCORE."
The man outside continued to try and pull open the door while yelling at the floating text. The holo-projector then began listing all the negative credit report information across the glass pane of the door. Morgan tried to ignore the man outside, but he continued to yell. He began cursing and banging on the doors shortly thereafter. Morgan knew what was coming if the man didn't stop. He hadn't had to witness it for…had it been years? As the man continued his assault, Morgan's table screen changed and displayed the man's face and name, as well as his Credit and Consumer Score. He had a Bronze tier score and this establishment was Gold or above. It appeared the man had a bankruptcy in the last 5 years and he was also still paying alimony from a previous marriage.
Morgan began to feel more uncomfortable as more and more information began pouring forth on the screen about the man outside. His name had just been revealed as Christopher Dupree. Everyone in the shop was now staring at the man, with some of the customers openly laughing. Morgan heard one of the couples seated behind him begin mocking Christopher and discussing how he shouldn't even be allowed in this part of town. This never felt right to Morgan, but this was just how life worked. He had moved from the Bronze tier he had inherited from his parents, all the way up to Platinum. If he kept going, he could hit Diamond in the next two years and then he could live anywhere in the city. It felt good to be a useful Citizen Consumer. Morgan looked back out at the man and could only think of his father, working hard his entire life, but always making poor decisions with the family's money.
Dutch came back over to the table and set down the bag with the breakfast sandwiches and asked, "Anything else I can get for you?"
Morgan looked up at Dutch, "Is he alright? I've never seen someone react to the GATEs this way."
"He comes by about once a week. His ex-wife works here and he harasses her about seeing her daughter." Dutch said off-handedly.
Morgan watched as the police pulled up swiftly. They both watched as the man was handcuffed and pulled into the car. As the police pulled away, Dutch said, "Alright. Well, have a great day, Morgan."
"Thanks…" Morgan said. "You too, Dutch."