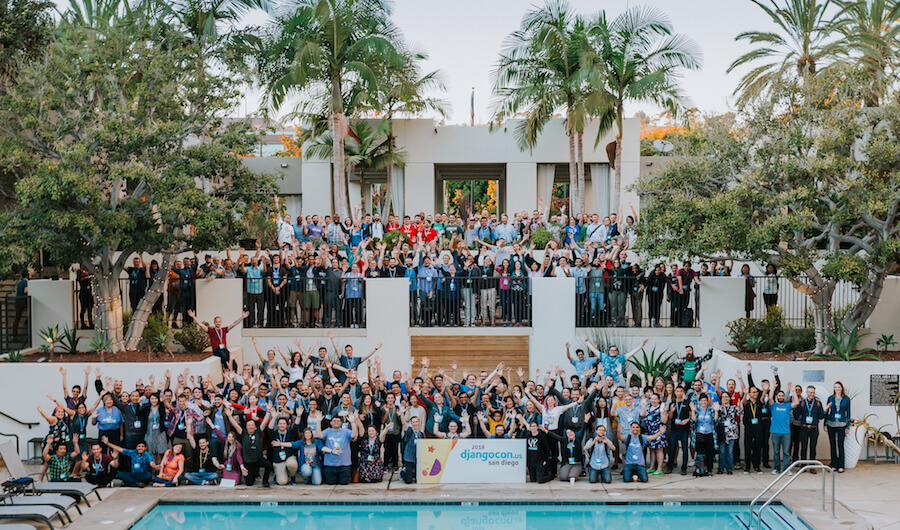 Above: Hundreds of happy Djangonauts at DjangoCon 2018. (Photo by Bartek Pawlik.)
That's it, folks — another DjangoCon in the books! Caktus was thrilled to sponsor and attend this fantastic gathering of Djangonauts for the ninth year running. This year's conference ran from October 14 - 19, in sunny San Diego. ☀️
Our talented Caktus contractor Erin Mullaney was a core member of this year's DjangoCon organizing team, plus five more Cakti joined as participants: CTO Colin Copeland, technical manager Karen Tracey, sales engineer David Ray, CBDO Ian Huckabee, and myself, account exec Tim Scales.
What a Crowd!
At Caktus we love coding with Django, but what makes Django particularly special is the remarkable community behind it. From the inclusive code of conduct to the friendly smiles in the hallways, DjangoCon is a welcoming event and a great opportunity to meet and learn from amazing people. With over 300 Django experts and enthusiasts attending from all over the world, we loved catching up with old friends and making new ones.
#Djangocon 2018 in San Diego has been the most inclusive, breath of fresh air conference I've ever attended, with the most beautiful and diverse group of people. Way to go Team Djangocon, @FlipperPA !!! <3

— Amber Wanner (@thedevwhisperer) October 18, 2018
What a Lineup!
DjangoCon is three full days of impressive and inspiring sessions from a diverse lineup of presenters. Between the five Cakti there, we managed to attend almost every one of the presentations.
We particularly enjoyed Anna Makarudze's keynote address about her journey with coding, Russell Keith-Magee's hilarious talk about tackling time zone complexity, and Tom Dyson's interactive presentation about Django and Machine Learning. (Videos of the talks are on YouTube.)
Practical applications for AI. (Must be mindful of prejudices through sentiment!) @tomd #DjangoCon pic.twitter.com/V4TPj28bCW

— Caktus Group (@CaktusGroup) October 16, 2018
What a Game!
Thanks to the 30+ Djangonauts who joined us for the Caktus Mini Golf Outing on Tuesday, October 16! Seven teams putted their way through the challenging course at Belmont Park, talking Django and showing off their mini golf skills. We had fun meeting new friends and playing a round during the beautiful San Diego evening.
Mini golf was a blast! An ending worthy of the Masters: a 2-way tie until the very end when — drum roll — @GrahamDumpleton, last player on the course (pictured with caddies) won by a single stroke! Congrats! And thanks to everyone who came out. #DjangoCon pic.twitter.com/S79MoAr9zt

— Caktus Group (@CaktusGroup) October 17, 2018
Thanks to all the organizers, volunteers, and fellow sponsors who made DjangoCon 2018 a big success. We look forward to seeing you again next year!