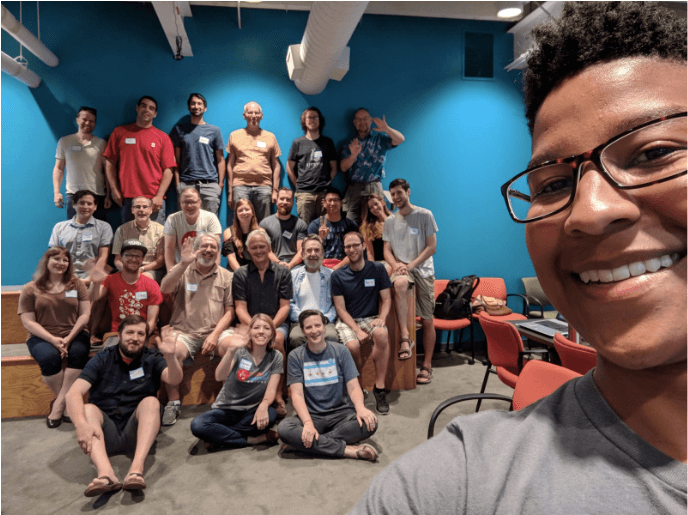 Pictured: Simone Sequeira, Senior Product Manager of GetCalFresh, with event attendees at Caktus.
On August 11, I attended the National Day of Civic Hacking hosted by Code for Durham. More than 30 attendees came to the event, hosted in the Caktus Group Tech Space, to collaborate on civic projects that focus on the needs of Durham residents.
National Day of Civic Hacking is a nationwide day of action that brings together civic leaders, local government officials, and community organizers who volunteer their skills to help their local community. Simone Sequeira, Senior Product Manager of GetCalFresh, came from Oakland to participate and present at our Durham event. Simone inspired us with a presentation of GetCalFresh, a project supported by Code for America, that streamlines the application process for food assistance in California. It started as just an idea, and turned into a product used statewide that's supported by over a half dozen employees. Many Code for Durham projects also start as ideas, and the National Day of Civic Hacking provided an opportunity to turn those ideas into realities.
Pictured: Laura Biedeger, a Team Captain at Code for Durham and a co-organizer of the event, speaks to attendees. I'm standing to the left.
Durham Projects
We worked on a variety of projects in Durham, including the following:
One group of designers, programmers, and residents audited the Code for Durham website. The group approached the topic from a user-centered design perspective: they identified and defined user personas and wrote common scenarios of visitors to the site. By the end of the event they had documented the needs of the site and designed mockups for the new site.
Regular volunteers with Code for Durham have been working with the Durham Innovation Team to create an automated texting platform for the Drivers License Restoration Initiative, which aims to support a regular amnesty of driver's license suspensions in partnership with the Durham District Attorney's Office. During our event volunteers added a Spanish language track to the platform.
The "Are We Represented?" project focused on voter education: showing how the makeup of County Commissioner boards across the state compare to the population in their county. During the event I worked with Jason Jones, the Analytics and Innovation Manager of Greensboro, to deploy the project to the internet (and we succeeded!).
Pictured: The Are We Represented group reviews State Board of Elections data files.
Another group partnered with End Hunger in Durham, which provides a regularly updated list of food pantries and food producers (gardeners, farmers, grocery stores, bakeries) that regularly donate surplus food. The volunteers reviewed an iOS app they had developed to easily find a pantry, and discussed the development of an Android app.
Join Us Next Time!
The National Day of Civic Hacking gave volunteers a chance to get inspired about new project opportunities, to meet new volunteers, city employees, and to focus on a project for an extended period of time. The projects will continue at Code for Durham's regularly hosted Meetup at the Caktus Group Tech Space. Volunteers are always welcome, so join us at the next Meetup!