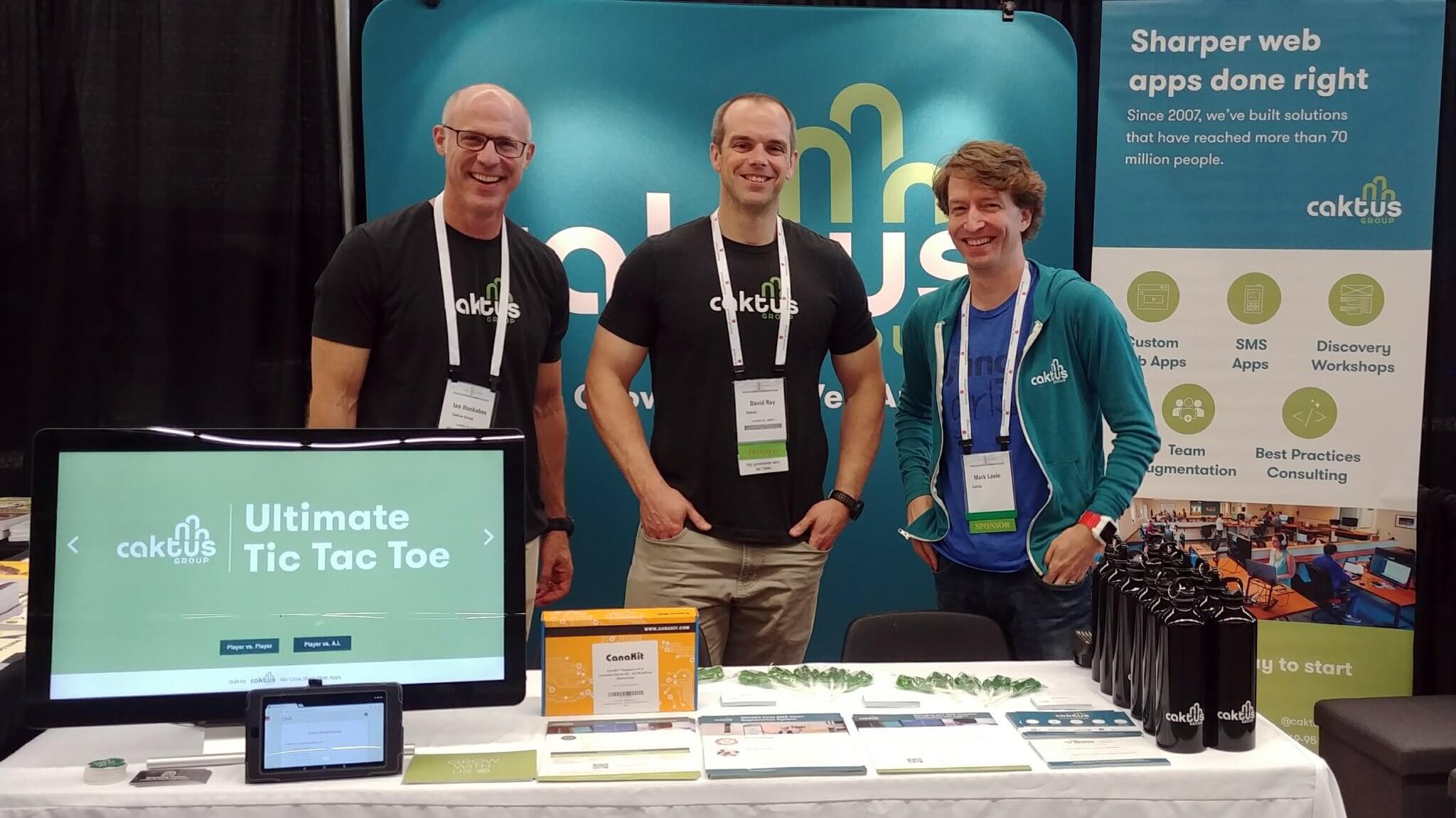 Making connections
Before the conference, our team listed "making connections" as one of the main reasons to attend PyCon. We certainly did that, welcoming visitors to the booth and catching up with friends old and new.
Ultimate Tic Tac Toe returned with an upgraded AI to play against. It was a tough one to beat this year! We had a couple of people achieve victory, though.
We also gave away two Raspberry Pi 3 kits to lucky winners.
Talks
Learning from fellow Pythonistas is another reason our team loves going to PyCon. The keynotes were highlighted as particularly engaging, although there were many mentioned by talk attendees on Twitter. Here are a few:
Awesome keynote from @cyli on security on the web. Entertaining, educational, and great storytelling with illustrations #PyCon2018 pic.twitter.com/L2XWZp2IDZ

— Benjamin Wohlwend (@beniwohli) May 12, 2018
Phenomenal talk by Dustin Ingram on the history and future of Python Packaging.

pip, easy_install, eggs, wheels, distutils, setuptools, setup,py, requirements.txt, pipfile.lock, pypackage.toml... I finally understand the context of it all. #PyCon2018

— Jake VanderPlas (@jakevdp) May 12, 2018
Awesome talk on becoming a python core developer by the amazing @mariatta. More women need to contribute to CPython and they can look to @mariatta for advice. Please spread the word. @pycon #pycon #pycon2018.

— saptarshikar (@saptarshikar) May 12, 2018
Look out for the 2018 edition of our PyCon Must-See series, coming soon!
PyLadies auction
The PyLadies auction sold out this year for the first time. Bidding was hot for items ranging from Tesla coil music-makers to cross-stitch samplers and limited-edition prints.
Cakti love to support the larger community and this year we were excited to donate an item to the PyLadies auction. This luxurious handwoven scarf, created by a member of the Caktus team, will let its new owner represent Python in style. Thank you to the buyer for supporting PyLadies!
Long live Python
It was another great year at PyCon! Thanks to all of the Python community for participating, and extra thanks to the organizers and volunteers. We appreciate all that you do!
The #pycon2018 staff and volunteers* are what make this happen. I'm so freakin excited to see this happen.

*not all pictured pic.twitter.com/kwXUYXxKVh

— the human shell previously known as Ernest. brb. (@EWDurbin) May 9, 2018