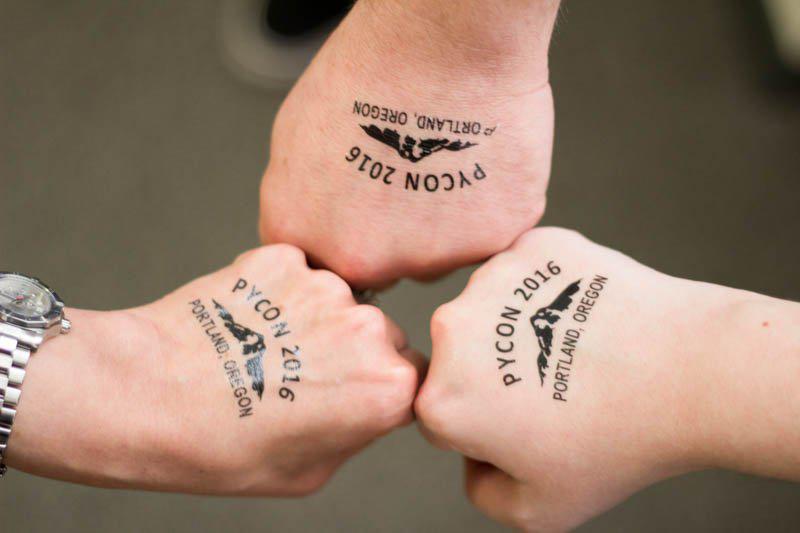 PyCon, beyond being the best community event for Python developers, is also an event that we happily began thinking about eleven months ago. Almost as soon as PyCon 2015 ended, we had the good fortune of planning the look and feel of PyCon 2016 with organizer extraordinaires Ewa Jodlowska, Diana Clark, and new this year, Brandon Rhodes. Our team has loved working with the organizers on the PyCon websites for the past three years now. They're great people who always prioritize the needs of PyCon attendees, whether that's babysitting services or a smooth PyCon web experience.
Seeing the PyCon 2016 Artwork
The Caktus team arrived in Portland and were almost immediately greeted with large-scale versions of the artwork our team made for PyCon. Seeing it on arrival, throughout the event, and especially during the keynotes was surreal.
Getting ready for the tradeshow
Our team got ready for the booth first, ahead of the PyCon Education Summit and Sponsor Workshops where we had team members speaking. Here's the booth before everyone came to grab t-shirts and PyCon tattoos and to learn more about us.
Here's a closeup of our live RapidPro dashboard too.
Supporting our team members
This year, at the PyCon Education Summit, Rebecca Conley spoke about expanding diversity in tech by increasing early access to coding education. Erin Mullaney and Rebecca Muraya spoke at a Sponsor Workshop on RapidPro, UNICEF's SMS application platform. Sadly, we didn't get a picture of Rebecca C, but Erin shared this picture of herself and Rebecca M. on Twitter.
Tradeshow time!
PyCon, for our booth team, is always intense. Here's a taste of the crowds across three days.
The excitement, of course, included a giveaway. Here's the winner of our BB8 Sphero Ball raffle prize, Adam Porad of MetaBrite, with our Sales Director, Julie White:
So many talks
With our office almost empty and most of our team at PyCon, there were a lot of talks we went to, too many to list here (don't worry, we're going to start highlighting the talks in our annual PyCon Must See Series). We do want to highlight one of the best things about the talks— the representation of women, as described by the PyCon Diversity chair:
Hello from your @PyCon Diversity Chair. % PyCon talks by women: (2011: 1%), (2012: 7%), (2013: 15%), (2014/15: 33%), (2016: 40%). #pycon2016

— Jessica McKellar (@jessicamckellar) May 30, 2016
Across three packed days, here's some of the topics we got to learn more about: real time train detection, inclusivity in the tech community, and better testing with less code. With the videos now available, we can still catch all the great talks even if we couldn't be there.
PyLadies auction
One of the highlights of PyCon is definitely the PyLadies auction. Every year, it's a raucous event that's just plain fun. This year, we contributed original concept art for the PyCon 2016 logo. It went for $650 to Jacob Kaplan-Moss, the co-creator of Django. Since we're a Django shop, there definitely was quite a bit of excited fandom for us.
And we can't leave without a cookie selfie
Whoever came up with the cookie selfie idea is brilliant. Here's Technical Director Mark Lavin with his cookie selfie.
OMG my #pycon is now complete! #cookieselfie pic.twitter.com/yUtNxGRVtv

— Mark Lavin (@DrOhYes) June 1, 2016
Hope to see you next year!
In the meantime, make sure to return to our blog for our annual PyCon Must See Series.