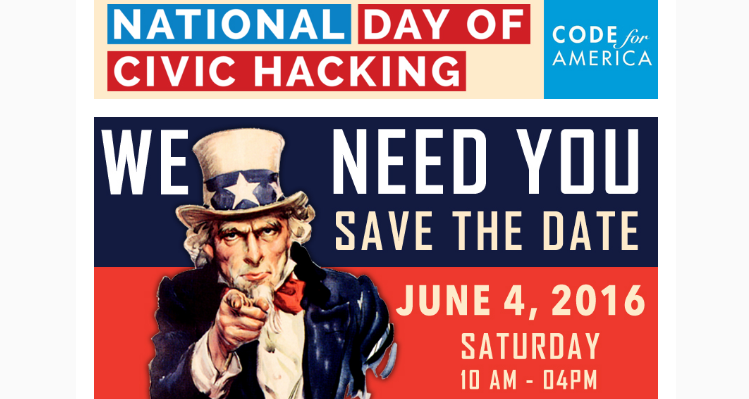 This Saturday, June 4th, Caktus Group will be hosting Code for Durham as they join Code for America's National Day of Civic Hacking. The day is a chance for everyone from developers, to government employees, to residents who care about their city to come together and use their talents to help the community. Attendees will collaborate on civic tech projects to be used by citizens and government employees. These projects seek to provide data on or improve government processes, addressing issues like health care, affordable housing, criminal record access, police data, and more.
The Code for Durham event will support work on several ongoing projects. These include CityGram and the Durham School Navigator. CityGram is a notifications platform for local issues like crime data reporting or building permit changes. Durham School Navigator enables users to geolocate nearby publicly-funded schools and view information like performance ratings, filter by magnet, charter, or public schools, and demystify school zoning patterns. Aside from these two projects, there will also be a period for attendees to pitch new project ideas.
The day will be filled with opportunities to contribute to projects that make Durham better. See the rest of the day's schedule below and register for the event here.
---
National Day of Civic Hacking - Saturday, June 4th
Kickoff & Project Sprint Pitches (10:00 am - 10:45 am)
Hear from the two existing, documented projects (Citygram and Durham School Navigator). Open floor for other project ideas.
Sprints (11:00 am - 3:30 pm)
Break out into work groups for the various projects.
Civic Hacking 101 (11:00 am - 12pm)
Open meeting with Red Hat's Jason Hibbetts, community manager of opensource.com, and City of Durham's Laura Beidiger. They will provide background on Code for America and demo some of the local civic apps Code for Durham has built. Finally, they will facilitate signing up to participate in a community app user testing group.
Lunch (12:00 pm)
Catered lunch from The Farmery in Durham ($5.00)
Read Out (3:30 pm - 4:00 pm)
Sprint teams demo their projects and report on progress from the day's work.