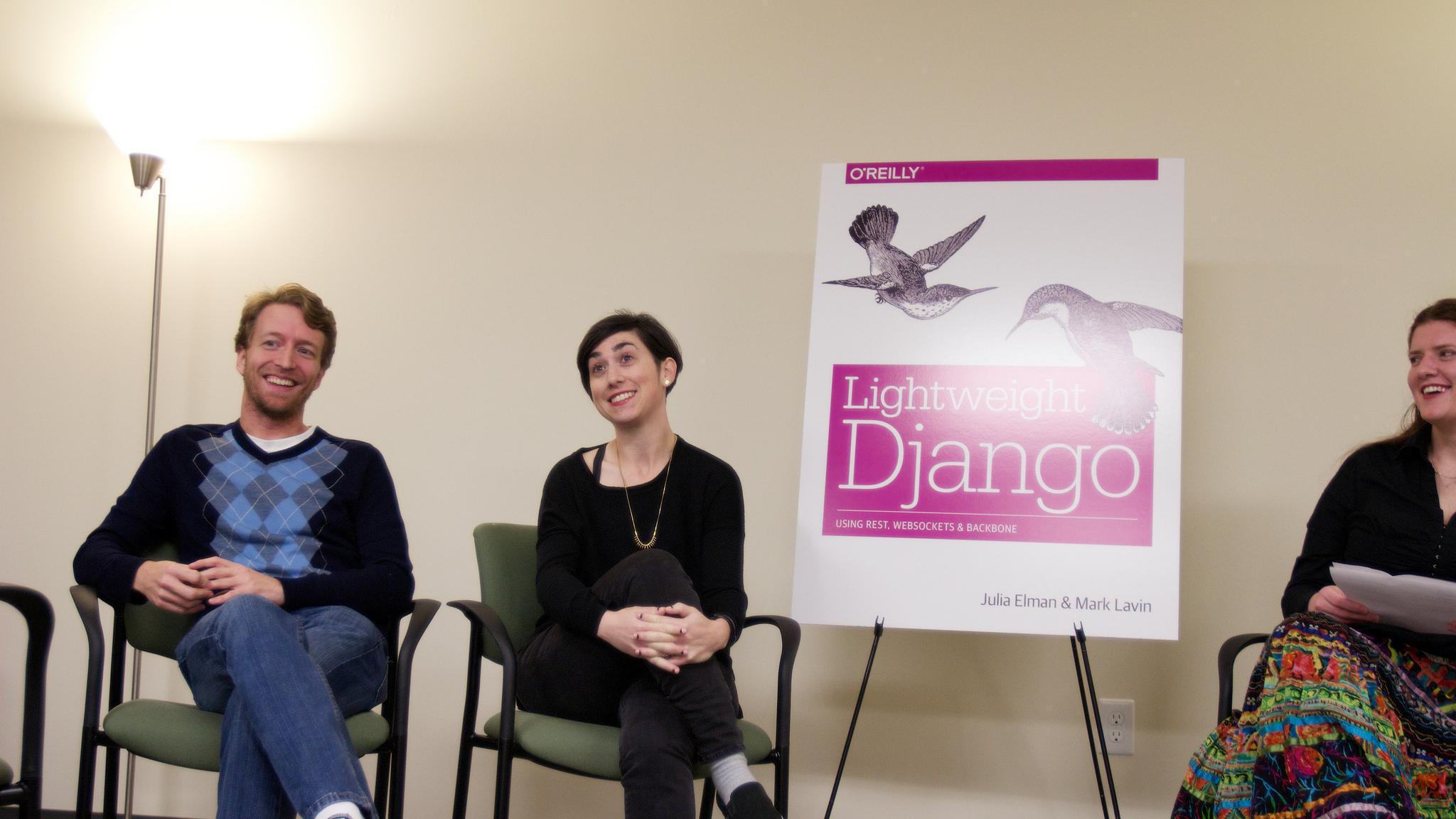 With Girl Develop It RDU, we celebrated the launch of Lightweight Django (O'Reilly) with the authors, Caktus Technical Director Mark Lavin and Caktus alum Julia Elman. Sylvia Richardson of Girl Develop It MCed. The event was open to the public and so popular we kept recounting the RSVPs and fretting over the fire code. But, phew, we were good. In attendance were friends, family, fellow Cakti, and Django fans from around the Triangle.
Festivities included lots of Mediterranean food, some of Mark's favorite beers, raffled-off gift bags filled with Caktus goodies, and, for those in the first two rows, free copies of Lightweight Django. The main attraction, of course, was hearing Mark and Julia speak. In response to audience questions, they both emphasized code quality with Mark highlighting the importance of iteration in any process. You can read more about their very strong opinions in Lightweight Django. (See what I did there? I totally just encouraged you to buy it. Go buy it!) They also spoke about the ups and downs of writing, the doubts, and the ways they egged each other on. There too was the challenge of working on client projects full time, writing the rest of the time, having young children, and, very occasionally, sleeping. (Note: Mark also was training for and participating in triathlons during this time, a fact I cannot fully comprehend.)
Congratulations again to Mark and Julia for their great achievement. Also, many thanks to Sylvia for her smooth MC'ing skills, Girl Develop It RDU for co-hosting, O'Reilly Media for the books, and everyone who braved the traffic to get here.