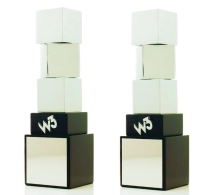 We're honored to announce that we've won two W3 Silver Awards for Creative Excellence on the Web. The awards were given in recognition of our homepage redesign and DjangonCon 2014. Many thanks to Open Bastion and, by extension, the Django Software Foundation for selecting us to build the DjangoCon website. Also many thanks to our hardworking team of designers, developers and project managers that worked on these projects: Dan, Daryl, David, Michael, Rebecca, and Trevor!
Here's a quote from Linda Day, the director of the Academy of Interactive and Visual Arts (the sponsors of the award):
"We were once again amazed with the high level of execution and creativity represented within this year's group of entrants. Our winners continue to find innovative and forward- thinking ways to push the boundaries of creativity in web design."
We're particularly humbled to learn that there were 4,000 entries this year and to be in the company of winners like Google, ESPN, Visa, and Sony and the many other wonderful companies that received recognition. We're looking forward to continuing to build great web experiences!
The official press release: http://www.prweb.com/releases/2014-CaktusGroup/11/prweb12306675.htm