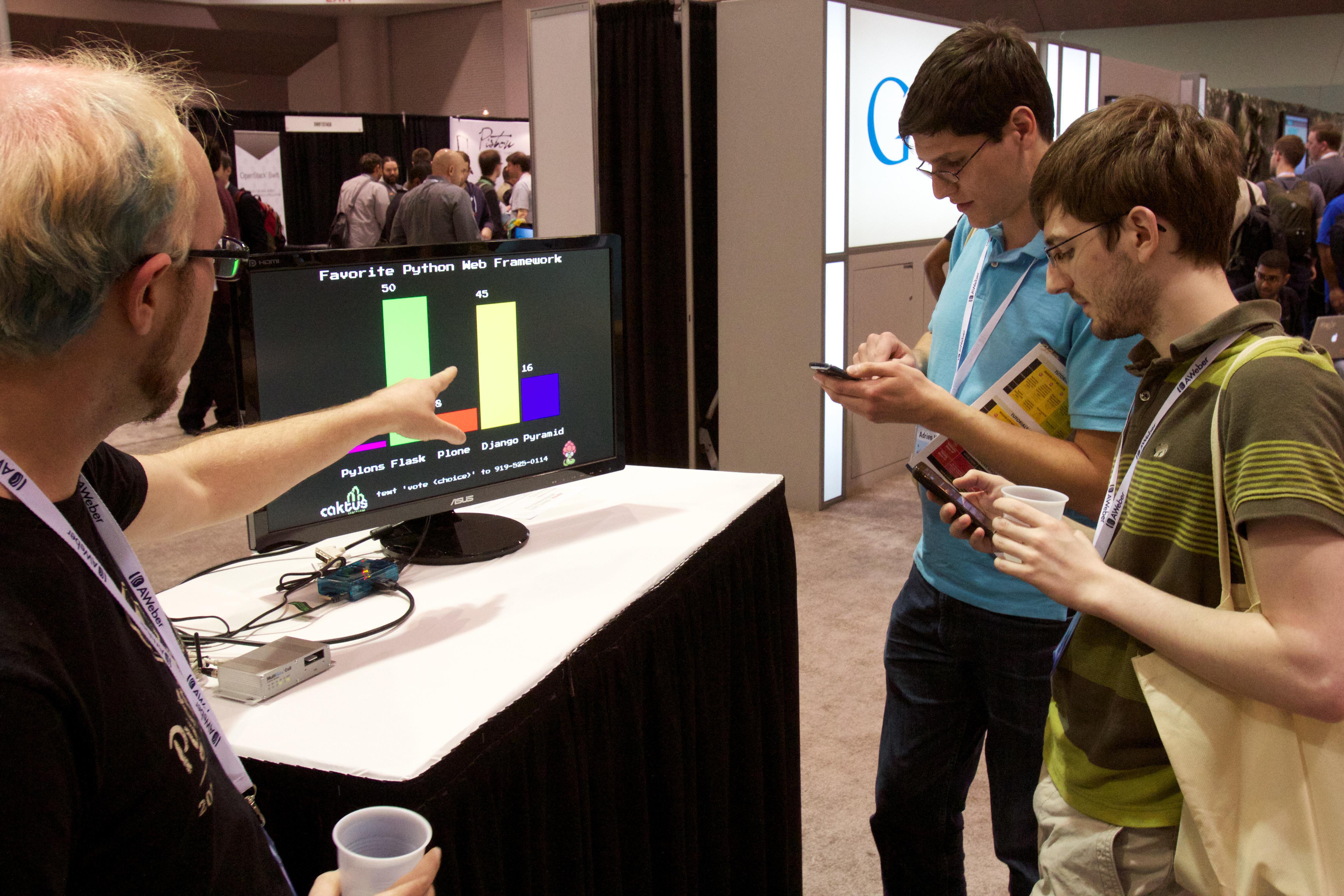 Caktus had a wonderful time at this year's PyCon conference.  We believe strongly in supporting our developers in their quest to become the best coders that they can be and think that being at PyCon is a great way for them to learn about what's going on in the Python community.  We sent ten people to the conference to work at our booth and attend conference events.  The organizers of PyCon, headed by Jesse Noller, put on an amazing event that created a space for people to meet face to face in order to work and learn together.
During the opening keynote presentation, Jesse Noller shared with PyCon his parting gift to the PyCon community before relinquishing the reins after his last year of heading PyCon.  He told the audience that the Python Software Foundation was providing a Raspberry Pi computer to each of the 2,500 conference attendees in the hopes that they would build awesome projects and share them widely.  This parting gift to the community was part of his contribution to enable pythonistas as he said to, "build a legacy for Python and the community that enriches and enlivens the next generation of programmers" by "infecting everyone with the maker spirit and the spirit of learning and exploration."
Caktus had the honor of working with the Python Software Foundation to design and build Raspberry.io. The site was created as a social site we designed to be a place to continue the vision Jesse Noller unleashed at PyCon of using the $35 RaspberryPi computers as an entree to people of all ages to learn how to program.  At Caktus, we strongly agree with PyCon's commitment to diversity, and education.
As a Platinum sponsor, we used our booth space to hand out swag and meet conference goers.  In our booth, we featured our engagement with the PyCon community through the Raspberry IO site development.  We had a kiosk set up to preview and use the site and showcased the first projects on the site including a text message based poll system developed by Caktus team members Caleb, Calvin, and Colin.  We polled people at our booth on their favorite Python web framework and what operating system they use daily to develop and design Python powered sites and applications.
Our designer Julia Elman, and developer Mark Lavin had the opportunity to give a talk at this year's conference. Their talk focused on the value of collaboration between designers and developers with an example of django-scribbler a project they worked together on during our first ShipIt day at Caktus. Mark started developing django-scibbler as an improved way to edit templates and content outside of the Django admin.  Julia challenged Mark to create real time feedback based on Bret Victor's Inventing on Principle talk pushing Mark to create a more user centered design.  This was a main focus of their talk, pushing developers and designers to broaden their skill set into each the other's specialities and not being afraid to cross invisible designer-developer boundaries.  Their talk highlighted the cross collaboration that was fostered by Caktus' work environment and shows a resounding success for our first ShipIt day.  We're proud of Mark and Julia's contribution to the wider conversation between developers and designers.
Through all of these events created by PyCon leadership and volunteers we were able to meet face to face with the wider Python community from around the world. We had the opportunity share what we've been excited about and learn from some wonderfully talented people. We are proud to support the PSF and PyCon in their missions and hope to see you again, or meet you for the first time at the PyCon 2014 in Montreal.