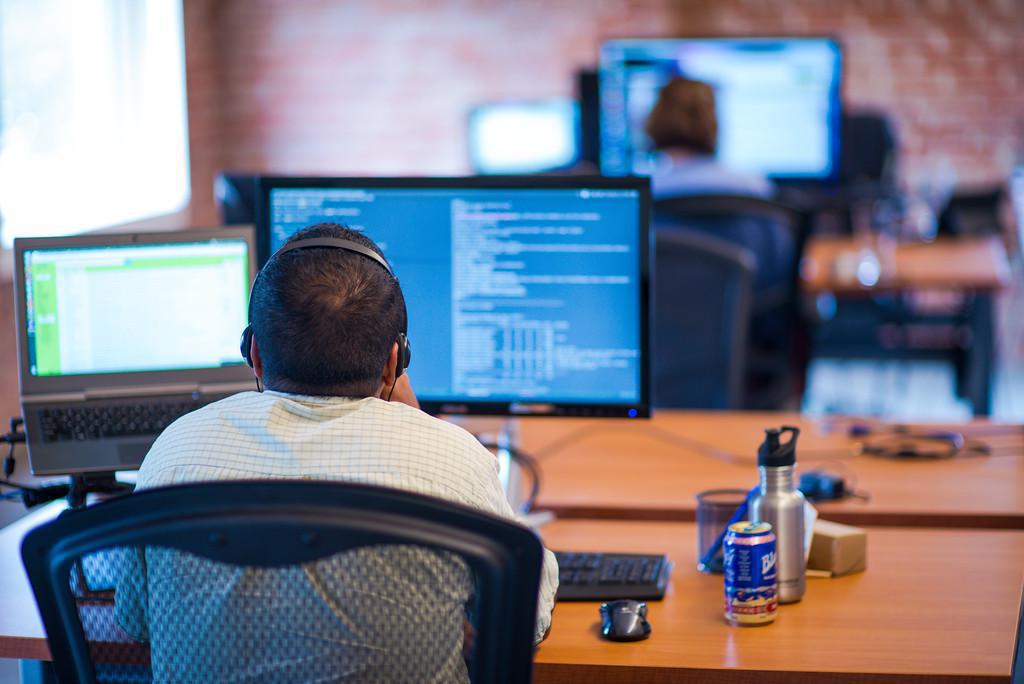 Diversity is important in a workplace environment. Having different points of view from people with different life experiences brings creative new ideas and innovative solutions to the software development process. As a team of web developers that designs and builds custom web applications, creativity and gender diversity, I would argue, are closely tied and both crucial to the success of our projects.
Software development is traditionally a field dominated by men. The presence of women in programming is commanding more attention at conferences and events, particularly in recent years. There are many initiatives within the Python community to promote involvement, such as the group Women Who Code, and the long-term benefits of efforts like these cannot be overstated. At Caktus, three of the ten current members of our Django development staff are female, and we are actively working to further equalize the gender balance through future hires.
One part of closing the gender gap in programming communities involves creating a safe and inclusive environment for all parties, both in the workplace and at community events. This begins with strong employment policies on harassment — which we have implemented here at Caktus — and also extends to implementing policies at conferences or other events relevant to the development community. This blog post comes out of several recent events in the broader tech community that Caktus is a part of. This includes two blog posts that drew a lot of attention, and two corporate events that demonstrated clearly for us how pervasive sexism still is in our industry.
In March, Katie Cunningham, a fellow Django developer and friend made through DjangoCon, wrote an excellent and widely read blog post titled "Lighten Up." The post details a story that is all too common in our industry, that of ongoing, but usually subtle sexist jokes and comments that serve only, whether intentionally or not, to gradually demoralize and discourage those to whom they are addressed. She discusses how the typical response, should someone get upset by such a "joke" or comment, is simply to "lighten up" and "stop being so sensitive." I can see how that would get really old. Fast. In fact, just in reading up for writing this post, I was blown away by the number of comments in response to posts such as Katie's that fit exactly that description.
Just a couple weeks ago, the computer manufacturer Dell hosted a summit in Copenhagen. Dell hired a "comedian" to MC the event, who proceeded to entertain the attendees with a variety of sexist jokes, acclaiming the "success" of the IT community as indicated by its male-dominated culture, and included a suggestion to the mostly male attendees that they go home and tell their partners to "shut up bitch." Dell has finally put out an apology about what happened, but the consensus seems to be that it's weak at best and, given its tardiness, lost any sincerity it may once have had.
In closing, I'd like to draw attention to one other aspect of the software development community, particularly at conferences, that often tends to aggravate any pre-existing sexism that might exist in the community. Last month, Ryan Funduk wrote an extensive and much-debated blog post, titled "Our Culture of Exclusion," about the pervasiveness of drinking at many programming conferences. He also discusses how, all too often, these environments are ripe with sexist or racist jokes (or worse) that quickly erode any efforts to further diversify such communities. One example that he highlights is the daily deal API provider Sqoot, who alienated and offended many when they suggested that women are better fit to serve beer than to program. Sqoot made several apologies about this unfortunate advertisement, but many of them still fell short and only worsened the offense, as this response from Gayle McDowell aptly sums up:
Your language, as far as I understand it, is making the assumption that all coders are male, that all are straight, that women are sexual objects offered as a reward (HIGHLY inappropriate in a professional context), and that the women are there to serve them.
She goes on to suggest an appropriate response if and when events like this do happen:
People screw up sometimes. It happens. A TON of people (both men and women) have done equally offensive things. // But when you do it, you need to own up to it and think about what you've done. Not lie about it, as you're doing now.
Clearly, we need to have policies in place for handling instances of sexist or racist jokes and sexual harassment. When they do happen, McDowell says, one needs to take responsibility and own up to the mistakes one has made in an honest way.
The bar has been set, and I think it's worth noting that several lessons can be taken from these events and applied to our own communities. Caktus is a long-time sponsor of several conferences relevant to the work that we do. Along with this blog post, Caktus is asking conference organizers and other sponsors to join us in the following effort: Moving forward, Caktus will require that a zero-tolerance sexual harassment policy is established and enforced by the organizers of any conference that we sponsor or attend. We want to ensure that our community events are safe, welcoming, and supportive for all of our colleagues — both male and female. While drinking can certainly make things worse, it is not the root of the problem. To overcome these issues, we need to talk about them more, continue to raise awareness, and treat all people in our workplaces and communities with the professionalism and respect that they deserve.