NC Health Insurance Exchange
Challenge
In the absence of a formal state government role implementing outreach and enrollment efforts related to the Affordable Care Act, a coalition of nonprofit partners in North Carolina sought to provide an alternate resource to North Carolinians.
Show  
The passage of the Affordable Care Act introduced sweeping changes to the way consumers learn about, shop for, and enroll in health insurance. One of the biggest changes introduced by the law was the creation of a set of state-sponsored online Marketplaces for consumers to assess their eligibility for financial assistance, complete an online application for coverage, and enroll in a qualified health plan.
However, a number of states, including North Carolina, elected not to move forward in sponsoring an official health insurance Marketplace, instead defaulting to the federal Marketplace (www.healthcare.gov). The impact of this decision extended beyond North Carolinians having to deal with the troubled rollout of the healthcare.gov website. Specifically, it meant that the state of North Carolina turned down substantial federal dollars to support and provide leadership for the implementation of outreach and enrollment efforts. To fill this leadership void, a coalition of nonprofits, now operating under the NC Get Covered banner, came together to better organize the on-the-ground implementation efforts to serve consumers.
Securing affordable health insurance is an essential way for an individual or family to become financially stable. Unpaid medical bills, typically due to a person being uninsured or underinsured, are a leading cause of bankruptcy – far too few households can handle a single economic jolt like an unexpected illness can create.

- Ralph Gildehaus, MDC Senior Program Director
As an Executive Committee member of The Big-Tent (the coalition sponsoring the NC Get Covered efforts), MDC, a nonprofit with nearly 50 years of experience in issues related to financial security of low- and moderate-income households, took the lead in developing the conceptual framework for a new, web-based resource to support these efforts. The intent of this resource would be to fulfill a portion of the basic roles of a state-sponsored Marketplace by providing resources to consumers and the growing network of nonprofit partners that provide enrollment assistance.
Solution
Caktus built a website that helps North Carolinians access essential information and local help, and provides support for the network of nonprofit partners providing enrollment services.
Show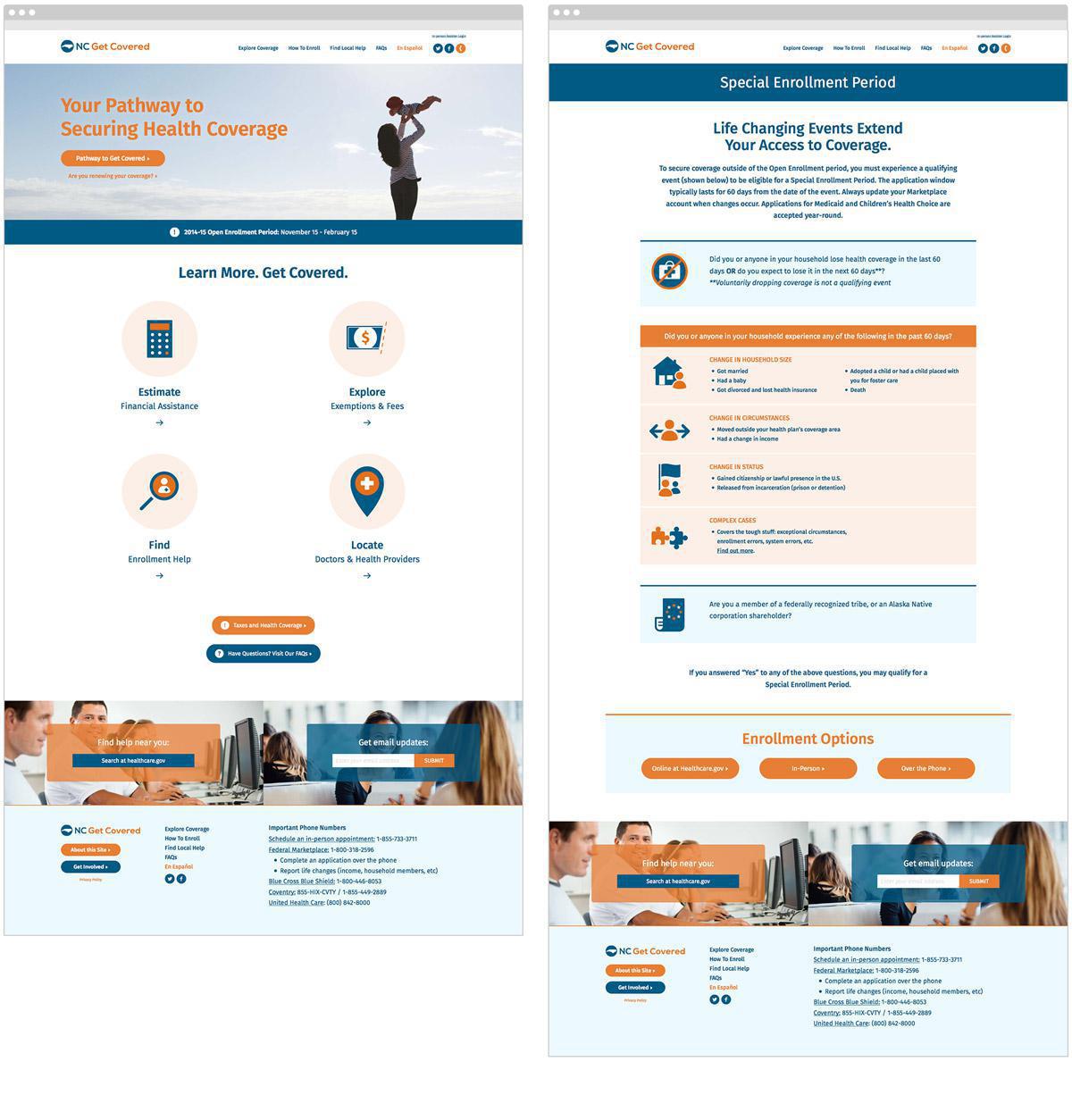 MDC selected Caktus to create NCGetCovered.org, a web portal with a dual mission. The first was to reduce or eliminate the barriers that consumers encounter in understanding how the health care law affects them by, helping them make smart decisions regarding their plan selection, and directing them to free, local, unbiased help. The second was to create a robust and flexible web resource that would provide an intuitive experience for all users that helped professionalize and support the network of nonprofit partners who are conducting the on-the-ground outreach and enrollment work in a complex policy environment that often requires daily tracking of federal guidance and new tools and resources from federal and nonprofit partners. Aside from Caktus' technical and design skills, MDC appreciated our commitment to social good projects.
Phase I (early November 2014)
Working with MDC, Caktus created an online portal that provided functions for two types of stakeholders:
NC residents seeking insurance. Residents of NC can visit NCGetCovered.org to gain fast, easy-to-understand information about health insurance and the new health care law. A calendar tool helps residents know when live help is available and where. Prominent use of infographics and process diagrams help relieve confusion regarding the enrollment process.
Assisters helping residents with enrollment. Caktus created a portal called the Knowledge Resource Center (KRC) for assisters who work in person to help residents with enrollment and re-enrollment. The KRC has a dashboard that enables assisters to quickly access critical information regarding policy or technical updates (relevant to the healthcare.gov website) and provides access to a catalogued and tagged repository of videos, presentations, training materials, fact sheets and other materials that are used on a daily basis to achieve better health enrollment outcomes for consumers and their families.
The overarching goal of the site was to be accessible to a diverse range of individuals with very different levels of health literacy and web savvy. From the start, both MDC and Caktus understood the importance of clarity and simplicity. Achieving simplicity of message, however, is a complex process that requires thoughtfully considering multiple scenarios.
Caktus began by building multiple wireframes, outlines of the layout with no images. In viewing and discussing the wireframes, the design team and MDC could see which information mattered most and how it might be accessed. Once stakeholders gave feedback and agreed on the wireframe, the design team then began building mockups of the site. The team used the existing logo as inspiration, utilizing their color palette, introducing typography, and creating custom icons. This process not only helped NCGetCovered.org extend its brand on the web (a critical strategy for any nonprofit effort), but also to ensure ease of usability. Moreover, it allowed the network of nonprofits to rally around something tangible and locally supported.
Phase II (December 2014)
In the second phase of the project, Caktus added enhanced tools for the coalition of nonprofit partners behind a password-protected section of the site (including the ability to submit public-facing calendar events for display), and will roll-out additional search capabilities for consumers to easily access local help.
Results
North Carolina continues to be a leader in enrolling the uninsured and underinsured through the federal Marketplace.
Show  
NCGetCovered launched on Nov. 13, 2014, ahead of the open enrollment period for healthcare.gov. North Carolina, one of the states that defaulted to participation in the federal exchange, has an unusually high percentage of enrollees. With the backing of the NC Get Covered outreach and enrollment efforts, supported by a new web-based resource, nonprofit partners will continue to seek positive changes in the health outcomes of all North Carolinians.
Our partnership with Caktus on the creation of NCGetCovered.org was a testament to what can be achieved in pairing a socially driven technology company with a grassroots nonprofit initiative. We are proud to have completed this project with the support of our new neighbors in Durham.

- Ralph Gildehaus, MDC Senior Program Director