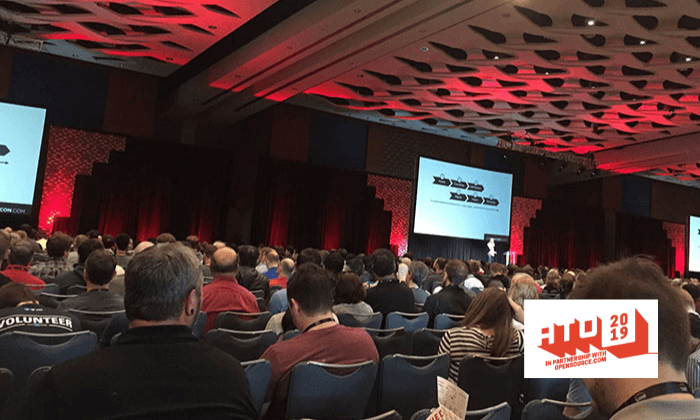 I recently attended All Things Open in Raleigh. Bringing together more than 4,000 attendees, it is the largest open tech event on the East Coast, and is focused on "exploring open source, open tech, and the open web." This year, ATO included more than 240 sessions across 22 tracks, ranging from front-end development to internet-of-things to studies of open data in government. The event was much larger than the last time that I attended in 2017.
Some of the more interesting sessions I attended were related to education and people's experiences working with open data. In particular, I enjoyed Enthusiastic "Yes!" in Mathematics Education by Maria Droujkova & Dmitri Droujkov. As a former teacher, I found their examples of making mathematics education more open to students' choices and voices compelling, and also relevant to teaching and mentoring in technology.
Another interesting talk was Roy Derks' Open-sourcing JavaScript at the City of Amsterdam, where I learned a lot about the City of Amsterdam's efforts to not only make their code a public repository, but, more importantly, to share data in a way that allowed people to make sense of the data, and to gain knowledge about the city as a result. For example, the city website includes searchable city maps, which provide information about a variety of topics like electric charging stations and bike parking facilities. He also mentioned an app built for reporting the need for garbage pickup across the city.
Finally, another interesting session was Turn Up the Fun (Gamifying Education) by Veethika Mishra, which provided examples for how including games in teaching can both make the learning more interesting for students and more accessible to those who may not otherwise engage with the subject. In terms of coding, games can help students become better at solving coding tasks without the need for being good at the traditional computer science curriculum.
Through my time at the conference, I learned about some ways in which open source technology can be used to provide meaningful information to people, as well as thinking about ways in which the open-source idea can improve education. I hope to include these ideas in my future work.
The event was also focused on diversity and inclusion. The speakers were diverse and so was the large crowd. It was great to see so many people supporting the open source community and open source development, of which Caktus is a proud participant. Events like All Things Open are beneficial not only because they bring us together but also because of the important exchange of ideas. The next ATO is already scheduled for October 18 - 20, 2020 at the Raleigh Convention Center.