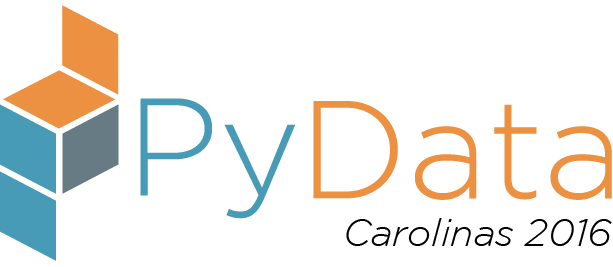 Tomorrow marks the official beginning of PyData Carolinas 2016 (though technically, the tutorials started today). This is the first time PyData has hosted a conference in our area. We're especially proud of the way local leaders and members of meetups like TriPython, TechGirlz, Girl Develop It RDU, and PyLadies have worked in tandem to put this event together for the Python community.
Caktus will be at PyData tomorrow and Friday as a Silver sponsor. We're glad to be in the company of esteemed sponsoring organizations like IBM, RENCI, Continuum Analytics, and the Python Software Foundation.
Come see us at the following PyData events and talks!
Wednesday, September 14th

7:00PM - 8:00PM
Evening Social at the 21c Museum Hotel
Join us after the tutorials with a social hosted by the Durham Convention Center. More details here.
Thursday, September 15th

8:30AM - 5:30PM
Caktus Booth
We'll have a booth with giveaways for everyone plus a raffle. We'll also have a display of OpenDataPolicingNC, a project Caktus CTO Colin Copeland helped lead; it received a White House nod for Code for Durham.
11:30AM - 12:10PM
Reach More People: SMS Data Collection with RapidPro (Room 1)
Erin Mullaney (Caktus) and Rebecca Muraya (TransLoc) will share how to use RapidPro, an open source SMS survey data collection app developed by UNICEF, to collect data. They'll also show you how to use RapidPro's API to create your own data visualizations.
11:30AM - 12:10PM
Python, C, C++, and Fortran Relationship Status: It's Not That Complicated (Room 2)
Philip Semanchuk, a Caktus contractor, gives an overview of your many options for getting Python to call and exchange data with code written in a compiled language. The goal is to make attendees aware of choices they may not know they have, and when to prefer one over another.
6:30PM - 8:30PM
Drinks & Data (The Rickhouse, Durham)
We're looking forward to this event, hosted by MaxPoint. It overlooks the park where the Durham Bulls play.
Friday, September 16th

8:30AM - 5:30PM
Caktus Booth
Do stop on by to say hello! We'd love to learn more about the different projects you're working on.
10:40AM - 11:20PM
Identifying Racial Bias in Policing Practices: Open Data Policing (Room 2)
Colin Copeland, Caktus Co-founder and CTO, Co-chief of Code for Durham, and a 2015 Triangle Business Journal 40 Under 40 awardee, will give a talk on OpenDataPolicingNC.com. His efforts were recognized via an invitation to the White House during Obama's Police Data Initiative celebration. North Carolina developers and civil rights advocates used demographic data from nearly 20,000,000 unique NC traffic stops to create a digital tool for identifying race-based policing practices.
11:30AM - 12:10 PM
You Belong with Me: Scraping Taylor Swift Lyrics with Python and Celery (Room 1)
Mark Lavin, Caktus Technical Director, and Rebecca Conley, Caktus developer, will demonstrate the use of Celery in an application to extract all of the lyrics of Taylor Swift from the internet. Expect laughter and fun gifs.
12:30PM
Raffle drawing for a copy of Lightweight Django (O'Reilly)
We'll contact the winner just in time for the book signing. Lightweight Django is co-authored by Caktus Technical Director Mark Lavin.
12:45 - 1:10PM
Book signing of Lightweight Django (O'Reilly) with Mark Lavin
Line up early! We only have limited copies to give away. Each time we've done a book signing, the line has been far longer than copies available. For those who aren't able to get a copy of the book, we'll have coupon cards for a discount from O'Reilly.
Can't join us?
If you can't join us at PyData Carolinas and there's a talk of ours you want to see, we'll have the slides available after the conference. You can also follow us on Twitter during PyData itself: @caktusgroup.