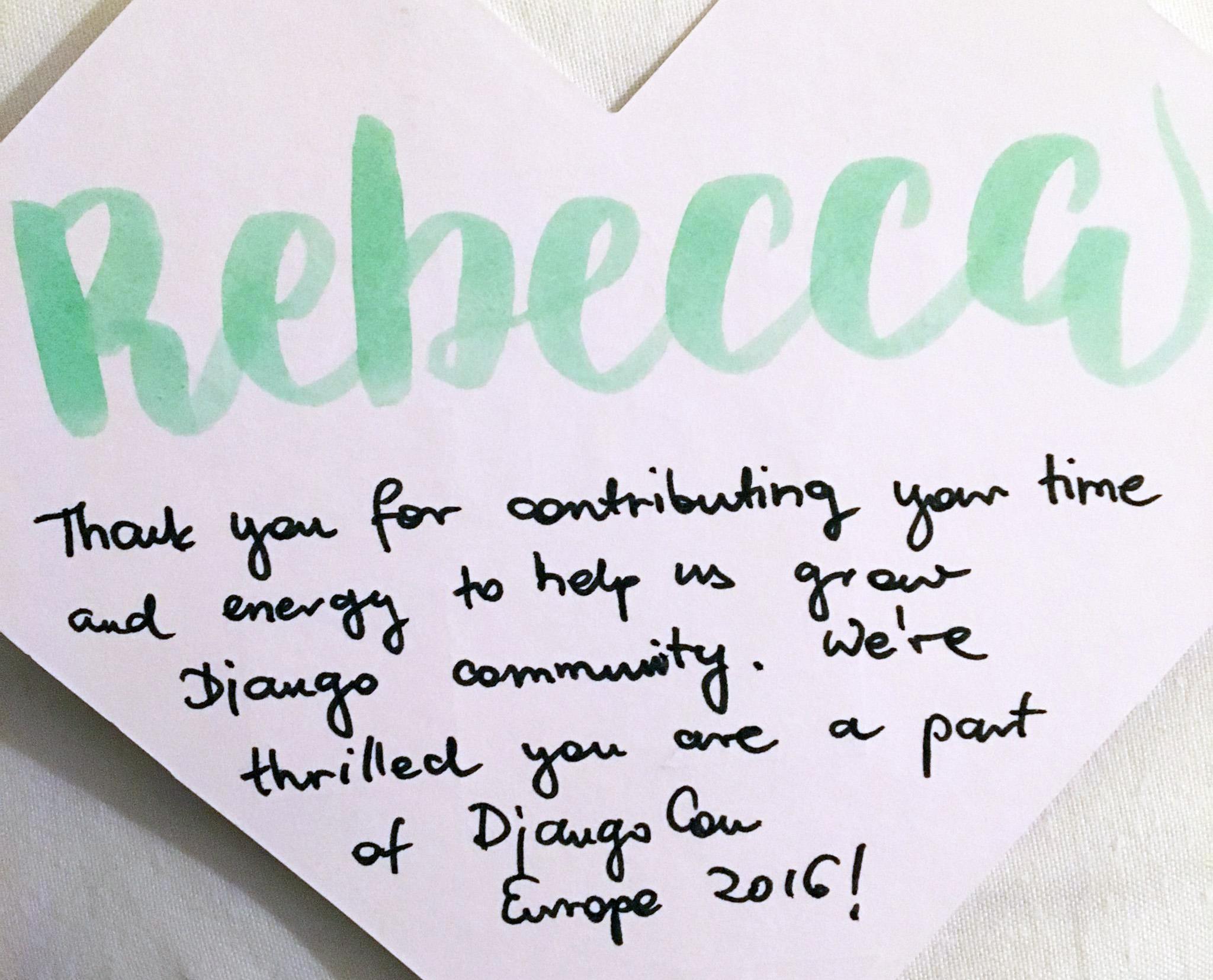 The environment at Caktus is, above all, one of encouragement. I experienced that encouragement as an intern and continue to experience it as a full-time developer. In addition to providing workplace mentorship, Caktus encourages all of its employees to submit talks to conferences. My manager Mark Lavin and mentor Karen Tracy encouraged me to get over my concerns about being new to the field and to start submitting talks.
Along with the support from Caktus was the impetus from Djangocon Europe for first-time speakers to submit. Djangocon Europe's Call For Papers(CFP) includes suggested topics and offers of support beginning with brainstorming a topic and including mentors if your talk is chosen. I took them up on this offer and floated a couple of ideas over email. I got a very quick response with the suggestion that I expand a previous blog post I had written on my mid-career transition into a talk. Baptiste Mispelon and Xavier Dutreilh continued to be helpful and responsive throughout the application process and made me feel like my contribution was valued and that I was being taken seriously, whether my talk would be ultimately selected or not.
A week later, I received the notification that my talk was selected. The support continued from Caktus, the broader local development community, and the Djangocon Europe organizers. Mark helped me refine my talk content, and Caktus coworkers and Pyladies helped me organize public previews of the talk. Djangocon Europe opened a slack mentor channel in which I was able to ask a lot of questions about talks in general and about how to communicate effectively with an international audience. The refinement and confidence gained from these experiences helped send me to Europe excited about giving my first talk.
The organizers made travel easy, opening a Slack channel for attendees to ask general questions about the conference. I arrived in Budapest, got a shuttle to the hotel, and checked into my room. Then I got on the Slack #speakers channel and asked if anyone wanted to join me for dinner. I ended up with two fantastic dinner companions, Andrew Godwin and Anna Schneider. Over dinner I learned about developing for non-profits, London's economic development, and many other fascinating things.
Budapest is beautiful and extremely friendly and walkable. In general, google maps and google translate worked to help me get around after initially leading me astray on my first walk to the venue. Once I arrived, I was greeted with signs telling me I was welcome, I looked awesome, what the code of conduct was, and what phone numbers and email to use if I had any concerns. The conference was well staffed with friendly folks to direct attendees and to answer questions. The food and snacks were good. There were dedicated quiet spaces and a separate prayer room. Attention to all of these details showed that the conference organizers carefully considered the needs and comfort of all the attendees in their planning and made us feel valued.
Throughout the conference and afterwards, Djangocon Europe showed particular dedication to the Code of Conduct and the principles behind it, which generally amount to "be kind to others." All conference slides were reviewed by the organizers to make sure they adhered to the Code of Conduct. Light-hearted but direct signs in the bathrooms made it clear that gender non-conforming attendees were welcome and that their safety and comfort were important. During the conference, an announcement was made regarding a slide that had been added after the screening and brought to the attention of the organizers as a violation to the Code of Conduct. This announcement demonstrated that complaints were taken seriously and handled quickly. It served to make us all feel that our safety and comfort was a priority. I even saw an interaction on Slack that enforced these values of inclusion and kindness. The conversation started with er someone giving a lightning talk asking an organizer to screen his slides The organizer pointed out a slide with a photo that could be seen as objectifying the woman in the photo. The speaker agreed and removed the slide. It was a simple interaction from which everyone learned. As a female speaker, I felt that the organizer was absolutely looking after both my interests and the interests of the presenter. Soon after the conference, Djangocon Europe published a Transparency Report detailing protections put in place, issues that arose, and the way those issues were handled. No conference can completely control attendee behavior, but attentiveness and transparency like this should set the standard for how conferences create safe and inclusive environments.
The venue was very attractive and comfortable, with a small theater for the talks as well as a library and balcony where talks were streamed for those who wanted a smaller, quieter setting. Having those options definitely helped me enjoy the conference as I had speech preparation in mind, along with getting the most I could from the talks.
The first talks emphasized the tone of welcoming and mutual respect. In their talk, "Healthy Minds in a Healthy Community" Erik Romijn & Mikey Ariel spoke frankly and personally about the struggles many of us face in the open source community to maintain physical and mental health while facing the demands of our jobs as well as the added desire to contribute to open source projects. As a new developer, it was really important for me to hear that all the people I perceive as "rockstars" and "ninjas" are just as human as I am and that we all need to take care of each other. It also inspired me to reflect on my gratitude that I work at Caktus, where we are all valued as people and our health and happiness is a priority of the company.
The talks were all fantastic, a nice blend of topics from debugging to migrations to the challenge and necessity of including languages that don't read left-to-right, given by women and men from all over the world. I felt honored to be among them and pleased that the organizers felt a mid-career transition into programming merited a speaking slot. The whole experience continued to be enjoyable, especially the speaker dinner consisting of traditional Hungarian food. At the dinner I had the chance to learn about the developing tech scene in Eastern Europe and the assumptions we had about each other on either side of the Iron Curtain in the mid 1980's. Software itself is impressive. However, it is only when we get to understand the people who are making it and the people for whom we are making it that software's real meaning and value become evident. Djangocon Europe definitely facilitated that kind of understanding. Another highlight of the evening was receiving my speaker gift, some souvenirs from Budapest and a handwritten note thanking me for participating, which made me feel very appreciated.
My talk was on the last morning, and while I expected everyone to be tired from the party the night before with live music in one of Budapest's "ruin pubs," there was a good crowd. The emcee Tomasz Paczkowski did a great job preparing speakers, including me before we spoke enforcing the "no comments, only questions" policy after we finished speaking. Speakers were also given the option to have no questions from the stage. I didn't choose that, but I see how that option would be valuable to some speakers.
What I didn't know when I first submitted my talk was that it was a single-track conference. I learned that when I saw the schedule. My audience was the whole conference, as it was for all the speakers. It was daunting at first to know that all eyes would be on me (at least the eyes of everyone who chose to attend a talk). I went into the room the night before and stood on stage, looking at several hundred empty chairs and absorbing the idea that they would be full of people watching me the next day. Fortunately I now knew who at least some of these people were, and I had seen in general how they responded positively to each other and to other speakers. I have performed as a dancer in front of large crowds plenty of times, but had never given a professional talk to an audience of that size. The beauty of the space and the familiarity of being on stage certainly helped ease my apprehension.
By the last day of the conference, I felt so comfortable and appreciated that I enjoyed giving my talk, From Intern to Professional Developer: Advice on a Mid-Career Pivot immensely. I was a little bit nervous, but just enough for it to be motivating. A number of people made a point of encouraging me throughout the week and being present as smiling faces close to the front during my talk. It went by quickly. I tried to remember to breathe and look up (both things I forget to do when I'm nervous). The crowd was polite and responsive.I got some good questions and follow-up from people who had made a similar transition or were thinking about it, as well as questions from some hiring managers. I felt like I was able to make a valuable contribution to the conference and to the community through my talk, and I am grateful to Djangocon Europe and Caktus for making it all possible.