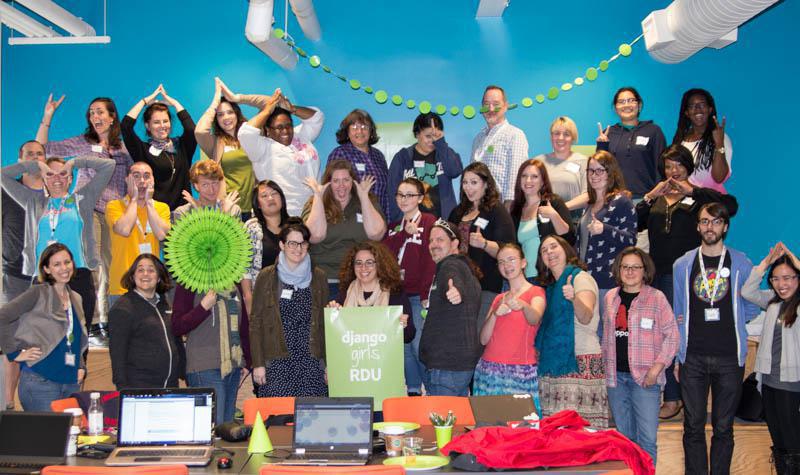 This past Saturday we had the pleasure of holding a Django Girls RDU workshop at Caktus in downtown Durham, NC. We hosted 22 students and 10 coaches for a free, all-day coding workshop. Aimed at increasing diversity in tech and encouraging women to gain the skills they need to fall in love with coding, Django Girls is a global nonprofit that provides the framework for these workshops. In regular Django Girls style, the day was part party, part coding marathon and every student left having deployed their very own website!
We were incredibly lucky to have great partners from the local Django and Python community supporting our work that day, including PyLadies RDU, Durham Women in Tech, Code for Durham, and Code for Raleigh. Coaches donated their time and their weekends and attendees came from all walks of life (even as far as Atlanta, Georgia!) to spend their Saturdays teaching and learning to code.
Working in groups of 3 with one coach per group, attendees worked their way through a tutorial covering the development of a blog application and deploying it to Python Anywhere. "It was such a warm and open environment," remarked Viola, a workshop attendee. "It was very invigorating being part of it." Viola, who hadn't made a web page since 1999, was one of many on a vast spectrum of coding experience to attend the workshop.
"It was... immensely satisfying to finish the day with a completed, attractive website that even had some rudimentary security. I loved feeling as if I had worked on a puzzle all day and managed to solve it," wrote another attendee.
We are thrilled to have had the opportunity to support this movement and can't wait to help coordinate another workshop in the future. Keep a sharp eye for more events from Django Girls RDU!